Plein air: Landscape painting holiday in South-West France
23.08.2020 - 30.08.2020 South West France |

Mark Warner painting, landscape, plein air, acrylics, sketching, nature 1699 EUR
The scenery of South-West France provides the perfect inspiration for beautiful landscape paintings. Mark Warner is professional landscape painter and knows the location well. He will lead you to beautiful painting spots. He will teach you about aspects of line and composition as well as giving you confidence of using colour. In an informative yet relaxed and easy manner, he will demonstrate how drawing and sketching can inform and further your 'plein air' painting. Sketchbook work coupled with regular individual tuition, will help you develop your personal style. You will have fun experimenting with techniques and processes during a productive and relaxing week in a truly fantastic location. Create your own artwork step by step to capture the beauty of South-West France's landscapes!
The Tarn-region is amongst the country's loveliest areas, with a mosaic of vineyards and green hills making up a landscape dotted with medieval villages. The Tarn opens up beneath our curious eyes and reveals its unique light, its authenticity, its rich history and incomparable heritage, its astonishing natural environment, its welcoming inhabitants, and its little hidden surprises! This is a perfect destination to try out or develop further your love of landscape and plein air painting!
You will find hospitality at St. Jean Retreats which is set in the valley of Cordes-sur-Ciel, a village built on a hill that maintained its medieval looking appearance. The fully restored former medieval hospital provides spacious and beautifully furnished rooms. Set in the lush valley which overlooks the historic and picturesque hilltop village of Cordes-sur-Ciel in the heart of the beautiful Tarn region in south-west France, St. Jean is a stunning, large stone house nestled within landscaped gardens and meadows surrounded by over 150 acres of private hillside woodland. Three meals a day which are made of locally produced organic food are offered, including wine – you are in France after all!
St. Jean Retreats offers many entertainment facilities like wine tasting, reiki, yoga lessons and massages, that can be organised at additional costs. Please let us know your preferences when booking, so that we can adjust the holiday for you. Have a look at their website, as well: http://www.stjeanretreats.com/ !
There is a train that can bring you within one hour from Toulouse airport to Cordes-Vindrac from where the owners of St. Jean are happy to pick you up. From there it is just a 5-minutes drive to take you to St. Jean. We can also organise a direct airport pick up (and drop-off) at additional costs (95€ per tour divided by the number of people which need to be transferred).


Target group: (all levels)
This course is meant to be for beginners as well as for more experienced artists.
Number of participants: 8-11
Where do we paint?
We will paint mainly outside en plein air, so you should not mind walking short distances on foot. Nevertheless, if the weather is bad we usually have access to the studio or a covered area where we can paint and practice techniques, too.
Material list: A material list will be provided in advance.

Schedule:
Arrival is on Sunday and departure is on Sunday.
Mark will tutor on Monday, Tuesday, Wednesday, Friday and Saturday. Thursday will be a non-tutored free day.
The material list for this course will be provided in advance.
The course will be held in English.
Transfer from the airport or other train stations except for the transfer to and from Vindrac train station is not included in the price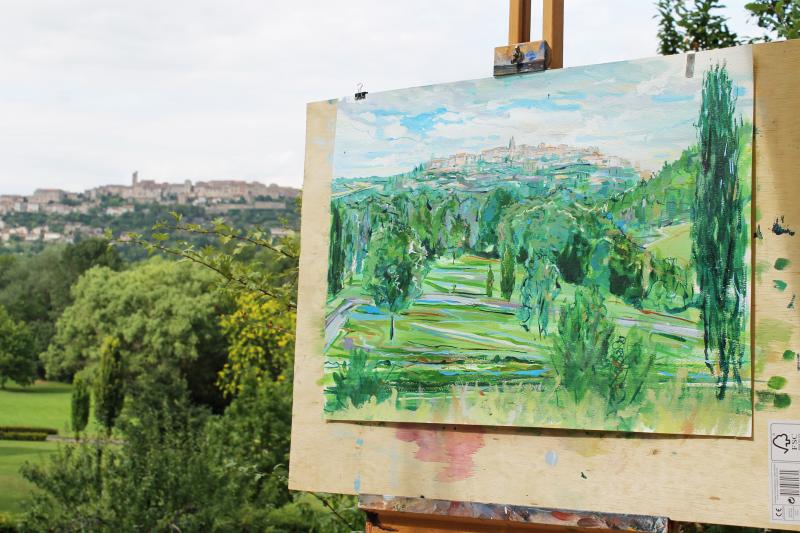 Mark Warner