Plein air: Painting holiday in beautiful Tuscany
16.08.2020 - 22.08.2020 Tuscany |

Elena Romanzin painting, plein air, landscape, acrylics, oil, nature, life 1399 EUR
Take your painting equipment and explore the picturesque landscapes of Italy! Discover the authentic essence of the countryside and little towns of Tuscany, one of the world's great cultural destinations. You will get to know the beauty of the Italian sunshine region through the joy of on location painting and working en plein air with professional painter Elena Romanzin. She will show you techniques and methods of oil or acrylic painting that help you create your own artistic memory of the amazing views and sceneries in beautiful Tuscany.
Not many regions in the world offer such a rich travel experience as the Tuscan region. How about deepen that experience by capturing the beautiful scenery in your own oil or acrylic painting? Tuscany is full of various flourishing sceneries. Just think of its wide landscapes made of picturesque views of quaint hills full of olive trees, pines, cypresses and grapevines, where there are shadowy pine forests as well as the beach and the sea. Its literal picture-perfection seems as if it is asking to be painted – just paint it!
The artist and painting-expert Elena Romanzin will not only teach you about composition and structure of the painting and the best techniques to fill your canvas with oil or acrylic paint and capture the beauty of Tuscany, she will also make you connect deeply with Italy as a country. Since being Italian herself, it will be a pleasure for her to give you an understanding of local Italian culture, the delicious culinary specialties, the history, the architecture and, last but not least, the landscape, so you can capture the beauty of the Tuscan scenery in its full magnificence. There will be one excursion to Volterra and another one to a different Tuscan city.
This course aims to deepen your skills in painting, to exchange views and to capture atmospheric, authentically Italian sceneries with paint and brushes.

Accommodation

You will stay at Villa Palagione in Volterra (Pisa), which has evolved in an internationally renowned centre of culture and study, a place of encounters, learning, enjoyment and creativity.
It is a place where you can perfectly combine vacation and culture, gather inspiration for any kind of art and enjoy the beautiful environment. The Villa is located in Volterra, in the heart of Tuscany, and embedded in flourishing nature, there are green areas around the villa wherever you turn to. The magnificent view to the wonderful landscapes lets you tank up with inspiration and relaxation for your art!
For more photos of Villa Palagione and its facilities see: http://www.villa-palagione.org/english/englindex.htm
Target group: (all levels) This course is meant to be for beginners as well as for more experienced artists.
Number of participants: 6-12
Where do we paint? We will paint mainly outside en plein air, so you should not mind walking short distances on foot. Nevertheless, if the weather is bad we usually have access to the studio inside the villa, where we can paint and practice techniques, too.
The material list will be provided in advance.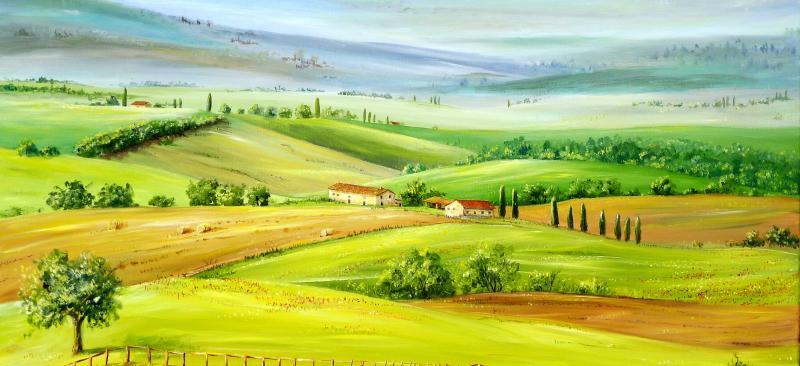 Elena Romanzin