Plein air painting holiday at Castello di Petroia
06.09.2020 - 12.09.2020 Umbria |

Elena Romanzin landscape, painting, life, acrylics, oil, drawing, sketching, nature 1499 EUR
Explore the beautiful landscapes of Italy and capture its natural beauty and regional characteristics with your brush! Professional painter Elena Romanzin will show you techniques and methods that help you create your own artistic memory of the magnificent views and sceneries in beautiful Umbria. This painting holiday will provide an all-embracing experience in regards to country, culture and personal connection. You can work with oils or with acrylics.
Each region of Italy has either a coastline or a border to other countries - except one: The region of Umbria. It is located in the heart of Italy and its hilly landscape is covered with mountains. Besides, the river Tiber runs through the land, leaving fertile ground behind. Altogether, Umbria provides perfect opportunities for beautiful paintings in "bella Italia".
Since Elena was actually born in Italy and has spent a major part of her life in Umbria, she is not only an expert for oil-painting and acrylics, but for that region in particular as well. She will introduce you to the Italian culture like no other since actually being Italian herself and being fluent in Italian, as well as in German and English.
She will be able to teach you about composition and structure of the painting, how you choose the perfect perspective and how to train your eye to recognize what is important for your work, as well as easily achievable methods to complete your personal knowledge base. Being an absolute expert for oil-painting, she will be able to teach you about the best techniques and methods to fill your canvas with paint and capture the beauty of Umbria. There will be two excursions: one to Gubbio and one to Assisi. This course aims to deepen your skills in oil or acrylic painting, to exchange views and to capture atmospheric, authentically Italian sceneries with oil or acrylic paintings and brushes.
If you are interested in a cooking class at the castle, we can arrange it for 35€ p.p. for a group of 6 people. Please let us know with your booking whether you would like to book this optional offer on top or not.
Accommodation
You will stay in the beautiful, charismatic Castello di Petroia, which is an authentic medieval fortress. Nestled on a hilltop between Perugia and Gubbio it offers a picturesque view of the surrounding landscape. Not only will this provide the perfect surrounding for painting, but it will also make you feel like being in a fairy tale.
For more photos and information on different room types see: http://www.petroia.it/
Target group: (all levels) This course is meant to be for beginners as well as for more experienced artists.
Number of participants: 6-12
Where do we paint? We will paint mainly outside en plein air, so you should not mind walking short distances on foot. Nevertheless, if the weather is bad we usually have access to a beautiful covered roof deck from which you can overlook the whole region and we also do have access to a studio inside the castle, where we can paint and practice techniques, too.
Further information:
Transfer from the airport or train stations to Castello di Petroia is not included in the price. However, we can and will assist you to form groups to diminish transfer costs! We strongly advice you not to book your flights before you have not received the information that the minimum number of participants has been achieved.
If you are planning to arrive with public transfer or if you have limited mobility, please let us know and we will find a solution. We will check if course and accommodation are suitable for you. If you need help to organise the transfer, we are happy to assist you. The nearest airports are Pisa and Florence. If you have any dietary requirements please let us know beforehand so that we can inform the local hosts.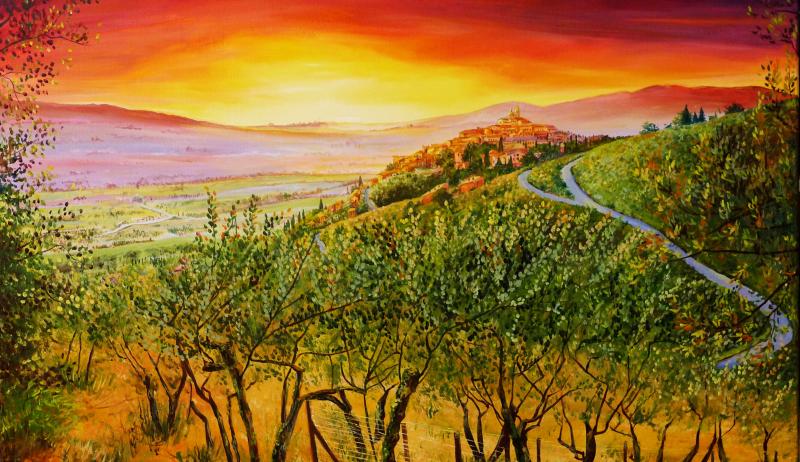 Elena Romanzin