Urban Sketching in Paris
09.05.2021 - 15.05.2021 Paris |

Renata Lahalle urban, sketching, drawing, watercolor, watercolour 1899 EUR
«Paris, Paris je t'aime » Paris is a place that exudes culture, sophistication, class, beauty, style and much more… and it's hard not to fall in love with Paris. Discover Paris with new eyes, the ones of an artist. Like a reporter, with Renata you will explore and record the atmosphere drawing magic places with easy techniques in you travel sketchbook.
Paris is multiple, with thousands of years of history, it would take a lifetime to visit all of the city. During 5 days you will draw Paris, you will discover the capital drawing here and there in your travel sketchbook with pen and watercolors. Like a reporter you will learn how to observe and what to choose to record. You will draw in the streets, squares, buildings, gardens, monuments and also in the « cafés ».
With this workshop you will allow yourself to entirely dedicate yourself to drawing. In addition, you will be able to share your experiences with the other participants. Renata will help you find the right subject to draw and teach you about different ways of choosing an harmonious and well balanced composition for your drawing. You will be guided to observe first and then sketch what you see by adding a hint of creativity. The objective is not to do a big and perfect view of the Eiffel tower, but all is about guiding you towards ways to loosen up and keep drawing wherever you go. You will learn to use your sketchbook like a diary and also as a tool to learn, practice and progress more and more.
Your travel sketchbook is your experience, it is your laboratory to experiment whatever you like.
This workshop will bring you to a new level in your drawing. It will also teach you how to create a well balanced sketchbook and will bring you to a higher spontaneity in your sketches.
Accommodation:
Your will find hospitality in the exclusive Boutique hotel "ZE Hotel Paris". Artist's and art lovers will be charmed by the 24 different guest rooms, which have been renovated recently in a unique designer style. The rooms are equipped with a bath or a walk-in shower, a mini-bar, air conditioning, Wi-Fi, an iPod speaker dock and an LCD TV with cable and satellite channels. The ZE hotel offers you a personalised welcome 24 hours a day. On top of that, the hotel is set in the heart of SoPi, the arty district, in the centre of the 9th Arrondissement, close to the Opera House and the main Department Stores, the Sacré Coeur and the Gare du Nord. To visit Montmartre it is just a 5-minutes walk and it will take you 20-minutes on foot to reach the Louvre. There are many shops and bistros close to the hotel which will be happy to serve you lunch and/or dinner. A typical French breakfast will be served in the hotel every morning.
For more photos see: https://www.zehotel.fr/languag... (you can adjust the language in the upper right corner)
Target group: (all levels) This course is meant to be for beginners as well as for advanced learners.
Number of participants: 6-10
Where do we sketch/draw?
We will draw and sketch mainly outside en plein air, so you should not mind walking longer distances on foot.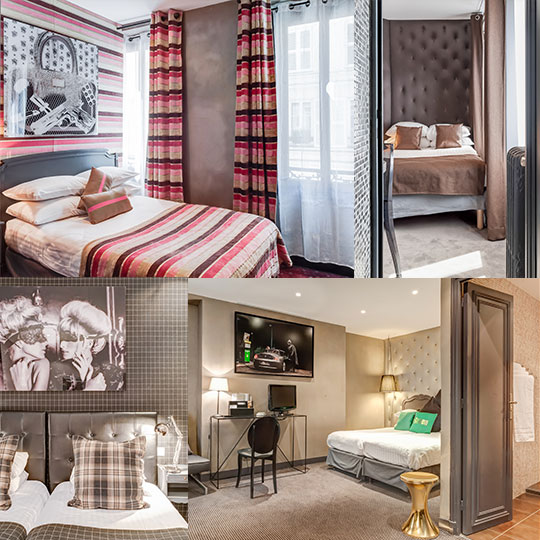 Photo: ZE Hôtel Paris