Knoydart and the Small Isles
07.08.2021 - 14.08.2021 Western Ireland |

Colin Prior adventure, animals, history, photography, travel 1850 GBP
The Knoydart peninsula is one of the remotest parts of the Scottish mainland and is not connected to the road network. The best way to travel is by boat and throughout the duration of the workshop, we have exclusive use of Mary Doune, which will take us on a new adventure each day. Travelling to and from each location takes on a new dimension with views to the surrounding islands and mountains and it's not uncommon to see, myriad seabirds, including white-tailed eagles, dolphins and minke whales. We are based at Doune, a former crofting settlement which is located in a secluded bay on the peninsula and is perfectly situated for accessing the Small Isles and Skye. Accommodation is in a Scandinavian style wilderness lodge with views across the Sound of Sleat to the Skye Cuillin and is complemented by the adjacent, award-winning, restaurant. Our day begins with breakfast at 0800 with an informal briefing of the day's activities. We set off aboard Mary Doune to our chosen destination – a journey that normally takes around one hour where we will photograph throughout the morning, breaking for freshly made packed lunches. The afternoon location normally involves another short boat trip from where we will return to Doune at around 1730. There will be time to review some of the day's images and to enjoy a drink overlooking the bay before dinner. During the course of the workshop, there will be tutorials and a group critique session.
TRIP HIGHLIGHTS
Spend seven days on location with Colin Prior
Enjoy access to some of the most varied locations in Scotland aboard the Mary Doune
Capture spectacular mountain scenery and encounter eagles, dolphins and whales
Seven nights, single occupancy accommodation at Doune Lodge
Enjoy fresh local cuisine in the award-winning Doune Dining Room
Tutorials and critique session with individual feedback
Group size normally eight
Trip Itinerary
The itinerary may be subject to change to suit weather conditions on the day.
Day 1 – Pickup from Mallaig – Doune
We meet in Mallaig which can be reached by car or train via the spectacular West Highland Railway line. Journey time from Glasgow, with a break, is about four hours. We meet on the pier at 1750 and this coincides with the arrival of the train. Once everyone has arrived, we will cross to the Knoydart peninsula – a journey which take around 20 minutes. After a short briefing we will reconvene for dinner in the Doune Dining Room.
Day 2 – Muck; Gallanach Bay
After breakfast, we board Mary Doune around 0900 and head south-west to the island of Muck. Our anchorage is at Gallanach Bay where coral sands are backed by rocky terraces on which a large colony of common seals reside. The bird life in May is prolific with oystercatchers, ringed plover, dunlin and common gulls defending their territories. We head up and onto a higher headland which has spectacular views overlooking Rum, Eigg, and Skye. We return over Muck's single-track road which takes us to the Tea Shop in Port Mòr where refreshments are available before our departure back to Doune.
Day 3 – Loch Hourn; Eilean Rarsaidh; Runival
As we enter the fjord of Loch Hourn, the view north is dominated by Beinn Sgritheall – one of the steepest mountains in Scotland. Our first location is Eilean Rarsaidh which in May is densely covered in bluebells and wild garlic. After returning to the boat, we continue up past Ladhar Bheinn and Barrisdale Bay to arrive at a wild location where stands of Scots pine cover the lower slopes of the mountains. Otters are often seen hunting here in the shallows.
Day 4 – Eigg; The Bay of Laig
Heading out in a south-westerly direction today, we travel down the east coast of Eigg and arrive at the pier, one hour later. Here we transfer into a mini-bus and are driven to the Bay of Laig on the eastern side of the island. It is a spectacular location with a huge sweeping sandy beach and is set against a backdrop of the Rum Cuillin rising vertically from the sea to over 800m. Two distinct areas provide endless photographic opportunities: the coral sand beach and the rocky shoreline where cannonball concretions stand exposed on the sandstone creating bold spherical shapes.
Day 5 – Skye; Loch Eishort; Boreraig
Rounding the Point of Sleat – the most southerly point on Skye, we head across to Loch Eishort where the full Cuillin Ridge rises before us. Our destination today is to the former crofting township of Boreraig, an isolated spot on the shores of Loch Eishort. It was from here in 1853 that Lord MacDonald forcibly evicted 120 men, women and children, to foreign lands. Ammonites and other fossils can be seen in the limestone rocks along the shoreline.
Day 6 – Rum; Guirdil; Bagh Rubha a' Mhoil Ruaidh
Rum's rugged coastline is a landscape of contrasts. From towering sandstone cliffs to secluded sandy beaches, its underlying geology has created some fantastic photographic locations. At Guirdil, the sea has eroded a cave through a sandstone headland to the opposite side creating great possibilities for photographs and to the south in a secluded bay, the beach formed of rounded pebbles, rises up at an angle of 30°, having been exposed to Atlantic swells.
Day 7 – Canna and Sanday
We head out and along the east coast of Rum towards Canna's north cliffs, which rise 150 metres from the sea. These are home to thousands of the breeding seabirds, which include, puffin, razorbills, shags, kittiwakes, and sometimes white-tailed eagles, which we have the opportunity to photograph from the boat. In the afternoon, we will head across to Sanday to photograph from the sea cliffs and the basalt stacks on which a large colony of puffins' nest from May to July.
Day 8 – Return to Mallaig
Following breakfast, we board the Mary Doune for the final time and return to Mallaig to arrive at 0920, in time for the south bound train to Glasgow.
ACCOMMODATION & FOOD
The accommodation is a Scandinavian style wilderness with a spacious interior and eight bedrooms. The rooms are located on the upper level while the ground floor consists of a large lounge and open plan kitchen, which is used only for tea and coffee –all meals, including breakfast, are served in the restaurant. Shared bathroom facilities are adjacent to the kitchen, with showers, basins, and toilets – there are no en-suite rooms.
Freshly prepared, locally sourced meals are enjoyed in the adjacent 'Taste of Scotland' accredited restaurant and are a real highlight of the trip, with freshly caught seafood a particular specialty. Special dietary requirements can be catered for. The restaurant is licensed and offers an excellent choice of wines, beers, and spirits.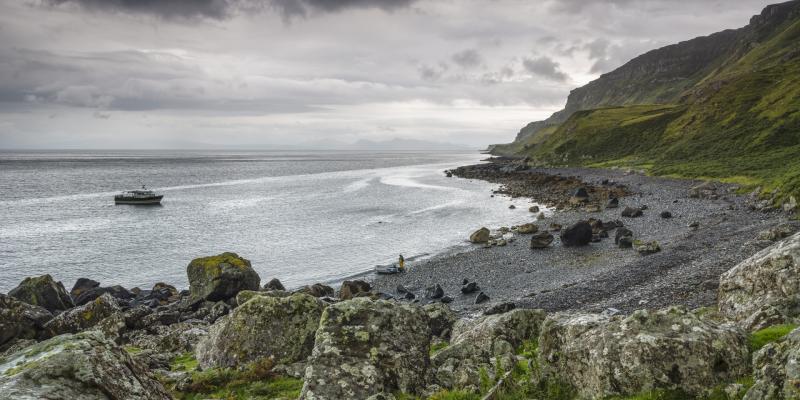 Colin Prior