Urban Sketching in Stockholm
22.08.2021 - 28.08.2021 Stockholm |

Ian Fennelly painting, sketching, urban, plein air 1699 EUR
Explore Venice of the North and discover the magic of Stockholm with pen and watercolour! Professional urban sketcher Ian Fennelly will show you techniques and methods that help you to create your own lively and atmospheric sketches. Learn to find your individual style and fill your sketchbook step by step. Inspired by the charm of the picturesque Swedish scenery you will be able to capture your favourite travel memories with brush and pen.
"Venice of the North", "City on Water", "Queen of the Mälaren"...Stockholm is known by many names. But no matter which name you use to refer to this beautiful city, it will always hold something back from its richness and variety. It is not only the capital, but also the richest in history of Sweden and to be specific, it is one city, yes...but it's actually 14 islands connected by 53 bridges. Do you now get why it is called "Venice of the North"? Also, it seems appropriate to call it "the most beautiful city there is": ancient old town houses, countless cafés and restaurants, well-kept green areas, the sea, a lot of sun, surrounded by thousands of island areas. Plus: in the summer, the sun nearly never sets. A scenery you now want to capture in your sketchbook?
Ian will teach you about the composition and the structure of the sketch, how to recognise clear perspective and how to train your eye to see what is important for your work, and reduce it to the essential elements. All of this and so much more will be taught and developed in many drawing and sketching sessions together. The course aims to deepen your skills in sketching, drawing and watercolouring, to exchange views, to capture atmospheric scenery of Sweden, and to have fun.
Learning goals:
train the eye to see shapes, value and color in outdoor scenes
become comfortable sketching in public
learn to draw standing up
become an urban sketcher and start reaping the benefits of seeing the world in a new way
All teaching sessions and demonstrations will take place in Stockholm. Ian will choose the most suitable and inspiring subjects to draw. Each session will cater for varying standards of ability and confidence, and you will be stimulated throughout the workshops by stories and little demo sketches to make the experience more rewarding and stimulating.
Accommodation:
You will find hospitality in the lovely Freys Hotel Lilla Rådmannen. The hotel is located in the central Stockholm district of Vasastan, right where the shopping street Drottninggatan begins. Thus, a more central location in Stockholm is hard to find - you'll be anywhere you want to in no time. Also you will feel at home immediately in one of their cozy rooms! And after a fulfilling yet long day of sketching, you can relax in the lounge area and talk about your art experiences.
Have a look at their website, as well: https://www.lillaradmannen.com/en/ !
Please note that in Stockholm everything is paid by card, even a small coffee. Also, the Swedish currency is Swedish krona.
Target group: (all levels) This course is meant to be for beginners as well as for advanced learners.
Number of participants: 6-12
Where do we sketch/draw? We will draw and sketch mainly outside en plein air, so you should not mind walking longer distances on foot.
How to get to Stockholm?
The airport in Stockholm is called "Arlanda". The easiest way to the hotel is to take the Arlanda Express, that only takes just 20 minutes and the train stops about 1km from the hotel. Have another look at how to get to the hotel here: https://www.lillaradmannen.com/en/about-us/location/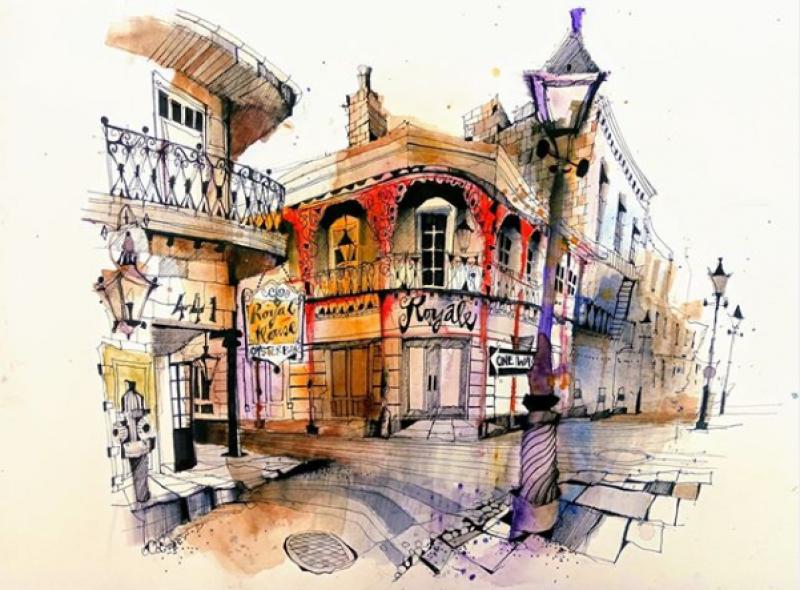 Ian Fennelly