Urban Sketching in Seville
26.09.2021 - 02.10.2021 Seville |

Renata Lahalle urban, sketching, drawing, watercolor, watercolour 1299 EUR
«What Seville gives you, no one takes away. »— Juan Peña 'El Lebrijano' Known for its hot summers, mild winters Seville is a bijou city whose fabulous food, extraordinary Mudéjar, Gothic and Renaissance architecture never cease to fascinate. History is everywhere, with ancient Moorish walls, Roman ruins and baroque churches on every corner.
Discover Seville from the creative side! As being the former birthplace of artists such as Velázquez, Murillo and Zurbarán, it is not surprising that Seville offers one of the most significant art collections all over Spain. Together with Renata you will explore and record the unique atmosphere of Seville with easy drawing techniques in your personal travel sketchbook with pen and watercolors. You will draw in the streets, squares, buildings, gardens, monuments and also in the cozy little «cafés».
With this workshop you will allow yourself to entirely dedicate yourself to sketching and drawing. In addition, you will be able to share your own experiences with other participants from all over the world. Renata will help you to find the perfect subject to draw and she will teach you about different ways of choosing an harmonious and well balanced composition for your drawing. Her mission is to observe first and then sketch what YOU see by adding a hint of creativity and some tips and tricks in regards to your drawing technique.
The objective is not to do a perfect picture like a photo, but all is about guiding you towards ways to loosen up and keep drawing wherever you go. You will learn to use your sketchbook like a diary and also use it as a tool to learn, practice and progress more and more. Your travel sketchbook is you experience, it is your personal laboratory to experiment!
This workshop will bring you to a new level in your drawing. It will also teach you how to create a well balanced sketchbook and it will bring you to a higher amount of spontaneity while sketching and drawing .
Accommodation:
The beautiful Hotel Alcázar is centrally located in one of the most emblematic districts of Seville. It is a perfect starting point for experiencing the true essence of the city and for visiting key monuments such as the Seville Cathedral, Plaza de España, the Giralda, the Royal Alcázar or the University of Seville. All rooms have been completely renovated and they are equipped with tasteful features and everything you'll need for complete comfort and relaxation. A continental breakfast will be served for you each morning. The hotel also offers free internet access and parking (with surcharge).
For more photos see: https://www.hotelalcazar.com/e...
Target group: (all levels) This course is meant to be for beginners as well as for advanced learners.
Number of participants: 6-10
Where do we sketch/draw?
We will draw and sketch mainly outside en plein air, so you should not mind walking longer distances on foot.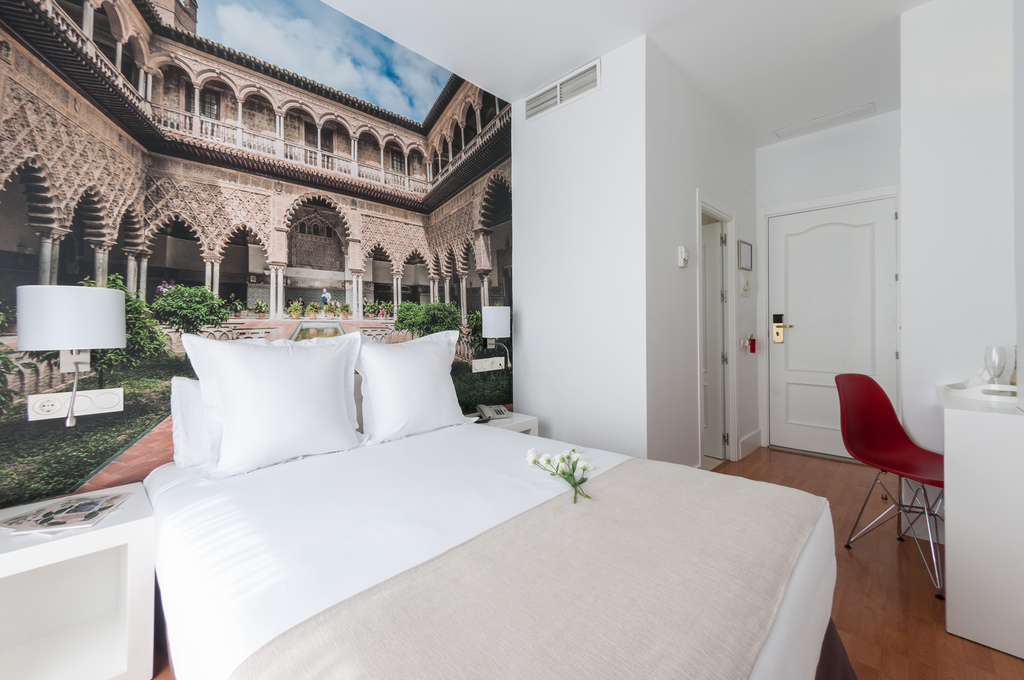 Photo: Hotel Alcázar Sevilla