Clouds and Sky
16.04.2022 - 17.04.2022 Hattingen |

Elena Romanzin acrylics, painting, landscape, nature 249 EUR
Immerse yourself in the breathtaking world of clouds! In this course you will learn everything you need to be able to paint realistic-looking clouds.
Two days of full immersion in the blue sky, breathtaking colors at sunset and powerful cloud formations await you! The sky is the element in a landscape painting that affects the depth and light contrast of the entire painting. Fluffy and white or compact and powerful clouds are one of the greatest natural spectacles.
What are the rules of painting the sky and how do you paint the different types of clouds? How does the color of the sky change depending on the time of year, time of day and weather?
In this course you will learn how to mix the right palette of colors, apply brush strokes and tricks to get realistic looking clouds. The course includes practical demos by the lecturer and exercises on perspective and color mixing.
Target group: beginners with basic knowledge and advanced. This compact course is aimed at those who want to learn how to integrate clouds and sky more realistically into landscape paintings and who already have some experience with acrylic painting.
Where do you paint? In the studio.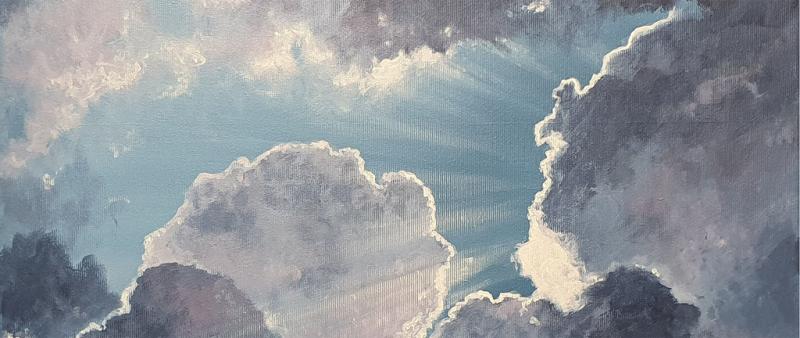 Elena Romanzin