Figurative Drawing and Portraiture
02.04.2022 - 09.04.2022 Venice |

Brigitte Guhle drawing, figurative, landscape, life, people, portrait, sketching, urban 1275 EUR
Enjoy the feeling of plein air drawing in Venice with our experienced tutor Brigitte Guhle. We will mainly focus on portraiture and figurative drawing in different techniques.
The main emphasis of this drawing course will be figurative drawing and portraiture. Usually drawing people is known as a challenging theme. Those who want to get to know a person better, will get the chance to learn more about each other while drawing. Drawing people is an enrichment in every way. Venice offers many motives. We usually draw in front of the models. The main focus of this course is people portraiture including different figuartive positions like standing, lying on the flow or sitting down etc. .
As long as the weather is fine, we will draw en plein air. Otherwise we will find retreat in one of the manifold cafés and museums of this beautiful city. Please be prepared that you will be much on the move. At the hotel there will be a room which can be used for afternoon lessons.
Target group: This course is meant to be for beginners as well as for advanced learners.

Where do we paint/sketch/draw? We will draw and sketch mainly outside during our various excursions. Nevertheless, if the weather is bad be usually have access to the breakfast area inside the hotel, where we can draw and sketch, too.
Accommodation:
The hotel Villa Rosa is located near the main station in a quiet backstreet called Cannaregios. In just a few metres walking distance you will find the pier of the public transfer boats, a Jewish cemetery and lots of dainty little Bàcari, the typical wine pubs of lagoon city. Villa Rosa knows neatly to captivate you with its small and calm inner courtyard and its cozy furnishings in the typical Venetian charm.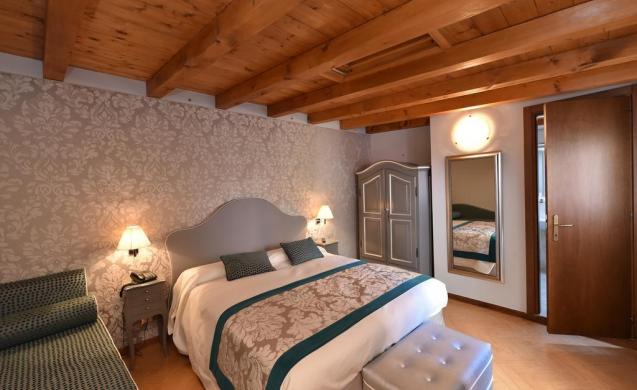 Photo: Hotel Villa Rosa