Portraiture & Nude Studies
14.05.2022 - 21.05.2022 Grasse |

Brigitte Guhle drawing, painting, portrait, sketching 1185 EUR
Enjoy the feeling of plein air drawing in Provence with our experienced tutor Brigitte Guhle. We will mainly focus on portraiture and nude studies in different drawing techniques.
In the morning we will draw and sketch in front of our models and in the afternoon you will get the chance to practice your drawing techniques during several excursion through the beautiful landscape of the Provence. We will also do some portraiture of locals - at least one afternoon. Further, we will make an excursion to Valbonne and will visit the perfume factory 'Fragonard' in Grasse. On your free day you can for instance travel to Nizza airport (25km).
Target group: This course is meant to be for beginners as well as for advanced learners.

Where do we paint/sketch/draw? We will draw and sketch mainly outside en plein air. Nevertheless, if the weather is bad we usually have access to the studio inside the hotel, where we can draw and sketch, too.
Accommodation:
The manor near Grasse is located on the idyllic outskirts of Grasse and surrounded by an area of manifold olive and wine cultivations. Grasse, the famous city of perfume, is worth a visit. From the southern terrace of the house you have a breathtaking view over the Provence. While your delicious meals in french national art will be prepared you can relax in the picturesque garden where you will be enchanted by the smell of orange trees. The classy interior design which can be related to the beginnings of the last century provides a stylish and unique atmosphere to the charming manor.
How to get there?
After your arrival at Nizza airport you'll need to take the bus 500 Nice-Grasse to "Le Rouret". In Le Rouret we will pick up all participants.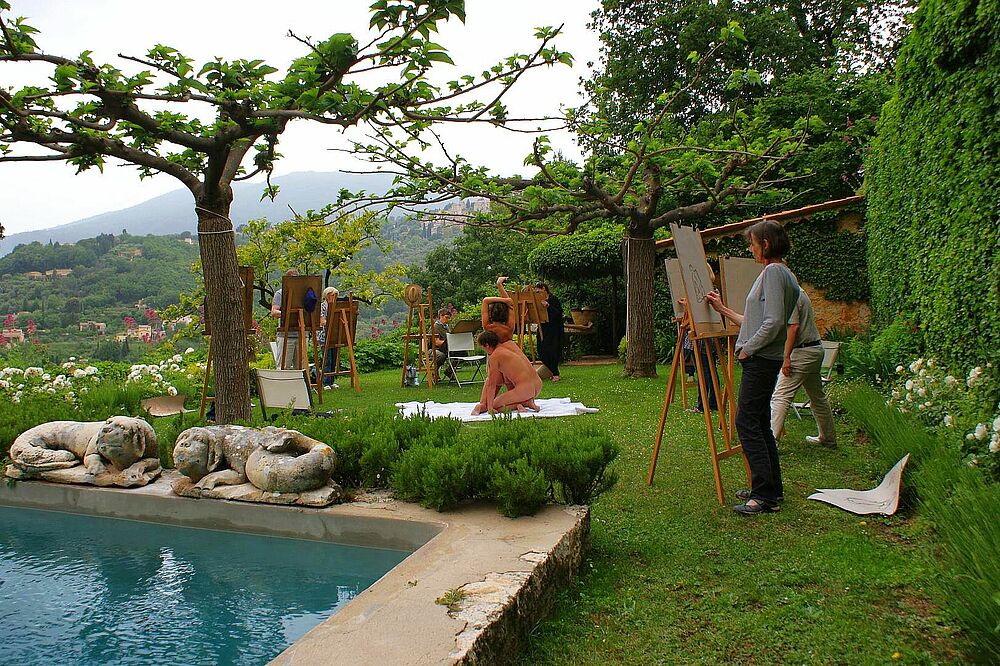 Photo: Landgut bei Grasse