Watercolor Painting Workshop Valencia
01.06.2022 - 08.06.2022 Valencia |

Keiko Tanabe painting, watercolor, landscape, urban, plein air 1425 EUR
LET SPECTACULAR SPAIN ENTICE AND AMAZE YOU! Valencia and the Orange Blossom coast, where history joins the present and meets the future with the architecture of the City of Arts and Sciences. This is the setting for this most exciting painting tour of the Communidad de Valencia. Paint in, enjoy and fully experience the bustle of the historic city, coastal marinas, medieval villages, ancient castles, rice fields (the place where paella was invented), the rural fields and the olive and orange groves, throughout this ten day painting holiday stay. You will not want to miss this unique plein-air painting workshop in Spectacular Spain.
Keiko's workshop at Dalvaro Art is the ideal art class for students who desire to gain a better understanding of the methods and techniques that go to create a watercolor painting that is full of atmosphere.
This painting course will include an emphasis on perspective, design, values, atmosphere, and color choices.
Subjects will be: Landscape, Waterscape, Cityscape, including painting out on location en Plein-air.
Keiko Tanabe will begin with the basics and discuss: the importance of perspective, understanding the importance of tonal values. Keiko will also show a variety of techniques in both paint application and brush handling, as well as how to simplify a complex scene.
The workshop is suitable for all levels, but a basic knowledge is strongly recommended.
You will paint a variety of subjects during the painting workshop, both in the large open studio and on location in Plein-air. While trying different approaches to discover what is most effective in creating the kind of atmosphere you most wish to achieve.
Keiko will complete at least one demonstration a day. Due to small artist numbers there will be ample opportunity for you to have private one-on-one guidance throughout the week.
This will certainly be a watercolor painting course to be remembered.
One that you will regret not booking sooner if you miss out on this because you thought about it too long.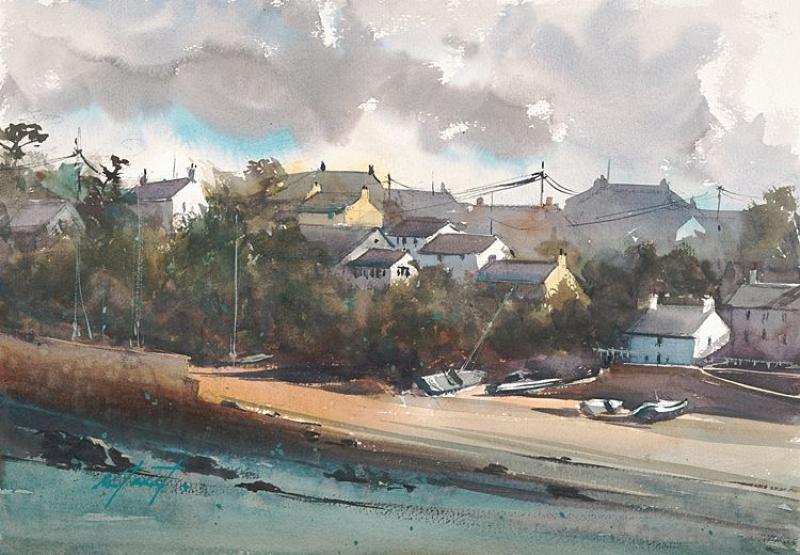 Keiko Tanabe