Watercolour Workshop
23.06.2022 - 29.06.2022 Valencia |

Michał Jasiewicz watercolor, landscape, urban 1645 EUR
THE ARTIST CREATES. The coexistence of the natural landscape and human artifacts makes a remarkable material which enables the artist to create. ALTERING LIGHT. A mix of a half-realistic, half-poetic vision of the world, a vision as elusive as the changing light or seasons of the year. SHIFTING SHADOWS. The resulting works are quite often inspired by a flash of light on a facade, shimmering surface of the water, billowing sky rather than by a particular object. GAIN THE FREEDOM. Allow your technique to keep changing, depending on the motif or mood of the moment.
COURSE OUTLINE:
We're going to show you how to capture landscapes differently.
So get ready for an exciting and completely new perspective on color, movement, and paint application.
While out on location and within the studio environment, directly with watercolour.
We will learn a variety of techniques and different forms of working.
Due to small student numbers the teaching will be personal so that no matter what the student level is, although not suitable for absolute beginners, Michal will quietly and patiently guide everyone through the course each day, allowing for one on one tuition as necessary.
This may change due to any Coronavirus restrictions which may be in place.
CITYSCAPES & LANDSCAPES
This is an exclusive watercolor art workshop, where Michal will take you on plein aire painting trips to paint cityscapes and landscapes
BE DIFFERENT
You'll see and apply color differently and bring a natural rhythm into your paintings.
BECOME YOU
All the while, you'll be creating a style that's all yours and that expresses the real you, the artist.
Included in the workshop will be seven nights stay in your own private, en-suite room.
Air-conditioning, tea/coffee making facilities, hairdryers, etc.
All meals, breakfasts, lunches and evening meals.
A minimum of three trips out to some of the fabulous painting locations in the Valencian area. Covid 19 restrictions may apply.
Plus tuition from one of todays best watercolourists, Michal Jasiewicz.
Don´t think about this for too long.
Act fast, because this workshop was postponed from 2020.
Only a few spaces left for April 2021.
Don't delay book today with only a €100 deposit.
We will send you a material list as suggested by the tutor two months before the course start date.
If you do not wish to carry all the materials with you then we have a supply in our Benigánim art studio where you may purchase all you need.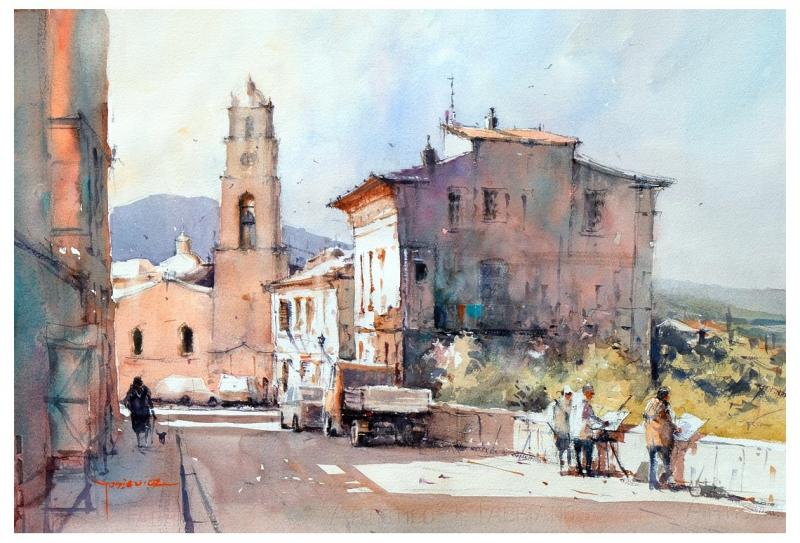 Michał Jasiewicz