Portraiture & Nude Studies
20.07.2019 - 27.07.2019 Fyn |

Brigitte Guhle drawing, painting, plein air, portrait, sketching 975 EUR
Enjoy the feeling of plein air drawing on the Danish isle of Fyn with our experienced tutor Brigitte Guhle. We will mainly focus on portraiture and nude studies in different drawing techniques.
In the morning we will draw and sketch in front of our models and in the afternoon you will draw and sketch within the ladscape of Fyn. We will also portray some locals. Sometimes we will do excursions to Kerteminde und Nyborg. On your free day you can for instance travel to Kopenhagen.
Target group: This course is meant to be for beginners as well as for advanced learners.

Where do we paint/sketch/draw? We will draw and sketch mainly outside en plein air. Nevertheless, if the weather is bad we usually have access to the studio inside the hotel, where we can draw and sketch, too.
Accommodation:
The **seminar house 'Liselund' is a very quaint estate on the isle of Fyn. With its thatched roof it is located within an area of forests, fields and currant cultivations and is just and eyeshot away from the beach of the Baltic Sea. The ,medieval city of Nyborg is not far away either. To get to the beach where you can bath and swim it just needs a 150m walk from the seminar house. Your hostess Jette Meyer will prepare some healthy, versatile and delicious meals for you. For breakfast, she will provide you with freshly-baked rolls and a large variety of self-made marmelades, tasty Danish cheese, cereal and fruits. The rooms are clean but simple. Two rooms share one bathroom/WC.
How to get there?
By train: Nyborg station
By plane: flight to Kopenhagen. There are several air lines available. Then you'll have to take the train to Københavns Lufthavn, Kastrup st to Nyborg st. It will take you approx. 1 1/2h
Address: Kokhaven 6, 5800 Nyborg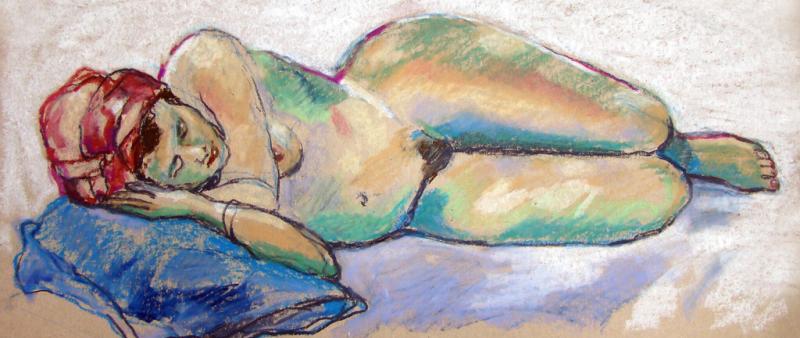 Brigitte Guhle