Camera Trap Photography Workshop
18.07.2020 - 22.07.2020 Cairngorms |

Terry Whittaker adventure, animals, excursion, photography, travel, wildlife 1095 GBP
The Highlands of Scotland are home to some of the most beautiful animals of the UK. We have been running trips to the Highlands for many years and so know it well; we are though always on the lookout for producing new and exciting trips and trying to add a slight twist. This trip certainly ticks those boxes. Some highland species like Pine Marten can be extremely elusive but we have teamed up with Terry Whittaker to add his camera trap expertise to help us achieve images of them. Learning a new technique whilst obtaining images of such an iconic species promises to be a great combination. During the day we will have the opportunity to work with other local subjects like Red Squirrels and Small forest birds and explore the local areas known well by James Shooter.
Accommodation
Accommodation is at a clean and comfortable Steading set in the beautiful Glen Feshie. All meals are homemade with an excellent Scottish Breakfast each morning too! Rooms are based on twin occupancy – please enquire if you want to look at a single supplement. Arrival is for a Saturday evening meal and departure after breakfast on Friday morning.
Itinerary:
Day 1: Travel to get yourself to our Highland base in time for the evening. We'll arrange transfers from the local station (25 minutes or so away) or you can drive yourself. Over dinner we'll look forward to outline the options for your photography ahead.
Day 2 – 4: This trip is as much workshop as it is photographic in its nature and so each day will involve a good amount of tutorial (both indoors as well as in the field) as well as setting up camera traps and the resultant photography. Camera trapping as a skill opens up an array of different creative and narrative opportunities and the area we are based in offers the chance to both learn the skills and principles working with the healthy populations of pine martens, badgers and red squirrels around us. Terry and James both know the techniques as well as anyone as well as their specific opportunities of the area itself between them and over the course of these 3 full days you will not only, with luck, acquire some very different images but also the necessary expertise to create your own set ups for a range of different species and environmental locations too.
Day 5: After a hearty Scottish breakfast (that you'll have almost become used to by now) it'll be time to head home. There will be transfers to the local station as required.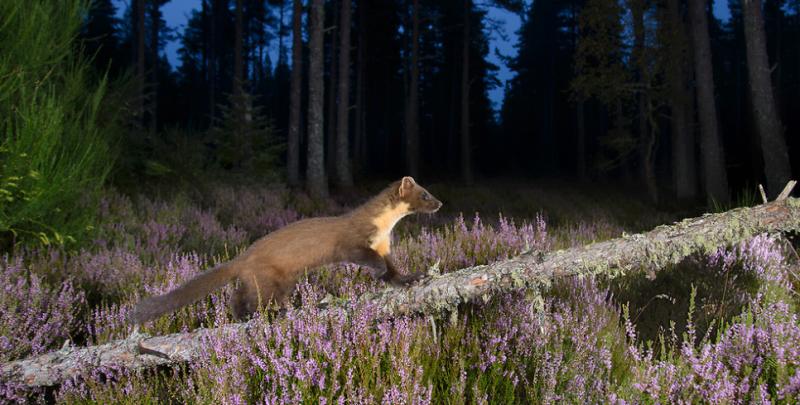 Terry Whittaker