Lake District Painting Breaks
25.08.2020 - 28.08.2020 Lake District |

Les Darlow painting, pastel, sketching, landscape 225 GBP
This intense painting break is ideal for any level of artist, whether you are just setting out or trying to take your painting to the next level. Les Darlow will be explaining pastels, papers, composition, tonal values, colour temperature and depth of field and why all these have such impact on your final works.
It will be based in the Lake District, in the little Cumbrian village of Ormside which is in the Vale of Eden. The first day will be spent in the hall learning techniques in pastel. Given reasonable weather conditions the second and third day you will be spent painting En Plein Air, and capturing the wonderful scenery around this area. If the weather is unfavourable, you will have full use of Village Hall to learn to paint and explore this magnificent medium.
On the Tuesday evening from 7-9pm Les Darlow will be presenting a demonstration in pastel and mixed media at Ormside Village Hall. On the Wednesday you will be learning techniques in pastel using various pastels, papers and mixed media. Les Darlow will teach you how to interpret the landscape and be very creative in the process using various techniques such as unification of colour altering colour temperatures. On Thursday and Friday, given favourable weather conditions, you will be visiting local scenes to create some amazing Landscape Paintings. If the weather does not comply and you need to work inside, then you will paint in the Village Hall and cover more techniques in pastel working from photographs.

You will look at working from photographs and how to interpret rather than copy and also address the things to alter and change whilst painting En Plein Air and the benefits. This is an intense 3 day workshop where Les Darlow's intention is to teach each student as much as possible in the time you have. He will teach the best practice of pastel and how to achieve the best results using certain papers.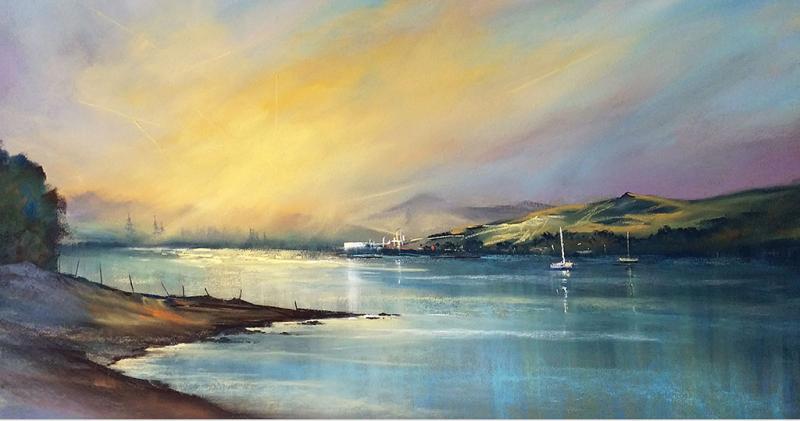 Les Darlow