Urban Sketching in the Ruhr Valley
23.08.2020 - 29.08.2020 Hattingen |

Ian Fennelly urban, sketching, drawing, watercolor, watercolour 1199 EUR
Explore the beauty of the Ruhr Valley with pen and watercolour. Professional urban sketcher Ian Fennelly will show you techniques and methods that help you to create your own lively and atmospheric sketches. Learn to find your individual style and fill your sketchbook step by step. Inspired by the charm of the unique Ruhr Valley scenery you will be able to capture your favourite travel memories with brush and pen.
The Ruhr Valley is much more than its former blade metallurgical industry, works of iron and steel or coal mines – in contrast to this, there are beautiful historical buildings, urban sceneries and landscapes that make you forget every cliché of greyness. The mixture of atmospheres in the Ruhr Valley is unique and provides the perfect inspiration for different motifs and images in your head as well as in your sketchbook. So how about capturing those stunningly diverse impressions that will remind you of a wonderful sketching holiday in an area with a second-to-none versatility?
Ian will teach you about the composition and the structure of the sketch, how to recognise clear perspective and how to train your eye to see what is important for your work, and reduce it to the essential elements. All of this and so much more will be taught and developed in many drawing and sketching sessions together. The course aims to deepen your skills in sketching, drawing and watercolouring, to exchange views, to capture atmospheric sceneries of the Ruhr Valley, and to have fun.
Learning goals:
train the eye to see shapes, value and color in outdoor scenes
become comfortable sketching in public
learn to draw standing up
become an urban sketcher and start reaping the benefits of seeing the world in a new way
All teaching sessions and demonstrations will take place in Hattingen. Ian will choose the most suitable and inspiring subjects to draw. Each session will cater for varying standards of ability and confidence, and you will be stimulated throughout the workshops by stories and little demo sketches to make the experience more rewarding and stimulating.
Accommodation: Hotel 'Birschel-Mühle' or hotel 'Zur alten Krone'
(Update: All 6 rooms at hotel Birschel-Mühle are already sold out - from now on all incoming booking requests will include a stay at hotel 'Zur alten Krone' in Hattingen)
Description hotel 'Birschel-Mühle':
You will find hospitality in the beautifully built hotel "Birschel-Mühle". Once having been an industrial flour mill and now being protected as a historic monument with diverse utilization, it provides a lovely atmosphere and inspiration for your art as well as a quiet place right next to shore of the Ruhr. The tiny hotel has just a small number of rooms which leads to a very familial atmosphere. All rooms are equipped with modern facilities and are easily accessible by elevator. Due to the spatial parameters of the protection of historical monuments all apartments are uniquely constructed and no room looks like the other. A rich breakfast is served every morning.
Description hotel 'Zur alten Krone':
The hotel "Zur Alten Krone" is located in Hattingen - a city in the heart of the Ruhr Valley. The beautiful old town of Hattingen can be reached on foot. From the hotel it is roughly a 5-minutes walk. Guests are invited to enjoy all amenities of the hotel, which has been particularly well-preserved, due to its urban uniqueness.The comfortable rooms have a cozy and rustic charm, which includes facilities like bath or shower, toilet, TV, small fridge and free Wi-Fi. A hotel parking lot is also available, if needed.
The whole team is at all times attentive and cares about the guests well-being. A traditional breakfast can be enjoyed every morning and there is the possibility to finish off the evening at the beer garden.
Please note: The seminar room for this course will be at hotel Birschelmühle. This hotel can also be reached on foot within a few minutes walk.
Target group: (all levels) This course is meant to be for beginners as well as for advanced learners.

Number of participants: 6-12
Where do we sketch/draw?
We will draw and sketch mainly outside en plein air, so you should not mind walking short distances on foot. Nevertheless, if the weather is bad we usually have access to the studio inside the hotel, where we can draw and sketch, too.
How to get to Hattingen?
The nearest airports are in Dortmund, Dusseldorf or Cologne-Bonn, from where it is best to travel to Essen central station. The hotel "Zur Alten Krone" is then easily reachable by public transport. It is just a 10-minute ride to "Hattingen (Ruhr) Mitte".
Enjoy your artistic stay in the versatile town of Hattingen that offers a unique historical ambience reaching from charming historical architecture to abandoned industrial halls that have shaped the history of the Ruhr Valley for many many years!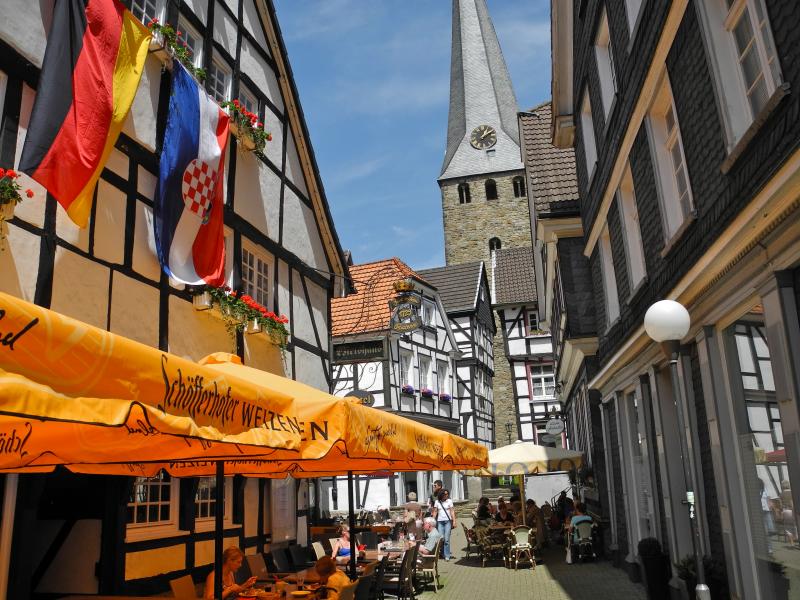 Hotel Zur alten Krone