Norway & Denmark Photo Tour
05.09.2020 - 13.09.2020 Lofoten |

Jim Zuckerman photography, landscape, wildlife, nature, outdoor, adventure 5695 USD
Norway is a Viking country, and it should be on every photographer's bucket list. It is unsurpassed in beauty. Phenomenal landscapes, dramatic seascapes, wonderful color, incredible night skies with the aurora borealis, and amazing light make Norway a top destination for picture taking. Beautiful villages and cotoes are nestled in breathtaking covers where elevated vantage points provide award-winning photographs. Glacially carved fjords define much of Norway's topography, and there are waterfalls everywhere. In addition, we take a cruise down one of the stunning fjords and have close photographic encounters with white-tailed sea eagles. Join Jim for an unfogettable photography tour that offers great imagery everywhere you look.
ACCOMODATION

On this photo tour the accommodation in the Lofoten Island portion are in the fisherman's cabins, thus the single supplement means you will have your own bedroom but the bath and kitchen will be shared with two other people who will occupy a double, i. e. shared room. There are two bedrooms in each cabin - a single room and a double room. For the three nights in Copenhagen, the single supplement means you'll have your own room and private bath as in a typical 4-star hotel.

ITINERARY
Day 1, Sept. 5, Saturday
Depart from home so you arrive in Evenes, Norway (EVE -- Narvik Airport) in the heart of the Lofoten Islands on September 25. You can fly there in one long day from North America, but it's recommended that you overnight in Oslo, Norway and stay in an airport hotel on September 24.This will give you a chance to rest and arrive in Evenes fully refreshed. The Radisson Blu Hotel is connected to the airport by a walking passage, and this is the most convenient. Take a morning flight to Evenes, and upon arrival, you will be met by the local guide.

When our group is assembled, we take a scenic drive (with photo opportunities) to Svolvaer and to our lodging for the first night - quaint and comfortable fisherman's cabins (we will have WiFi in all the cabins). Each cabin has two bedrooms and one bathroom plus a kitchen. One of the bedrooms is a double with two beds and the other bedroom is a single room with one bed. We typically put three people in a cabin - two in the double and one in the single -- with the shared bathroom and shared kitchen. The cabins are on the waterfront and they offer beautiful views of the harbor and the mountains. You can take stunning pictures right out of the windows! We will explore the town of Svolvaer for the rest of the afternoon and evening. Overnight fisherman's cabins.
Days 2 - 4, Sept. 6 - 8, Sunday - Tuesday
After early morning photography and breakfast, we drive through the stunning Lofoten Islands to the quaint fishing village of Reine, which is the epicenter of dramatic landscapes not only in Norway but in all of Scandinavia. Bright red cabins photograph beautifully against the sheer cliff faces of the craggy mountains, and everywhere you look there are great photographs.

Over the next three days, we seek out many wonderful vantage points that offer classic images of mountains, villages, harbors, inlets, and beaches. This time of year gives us enough daylight hours for amazing photography as well as enough hours of darkness to photograph the night sky when the aurora borealis lights up the heavens. What an incredible experience you'll have! Overnight fisherman's cabins.
Day 5, Sept. 9, Wednesday
After breakfast, we head back to Svolvaer and then take a boat to Trollfjord to cruise the stunning fjord. This is where crew members bait white-tailed sea eagles with fish to bring them into telephoto range. You should be able to get action shots of these magnificent raptors. Watch their aerobatics, their dramatic dive for fish, and their majesty through your lens. It's a fantastic experience, and your pictures will be amazing. You'll want a lens in the 400mm to 500mm range and a zoom lens is ideal because it offers compositional options as the birds fly.

After the cruise is over, we return to Svolvaer and overnight. Jim will conduct a critique session to give you feedback on your work as well as to suggest ways in which Photoshop could be used to embellish and enhance your images. Overnight fisherman's cabins.

Day 6, Sept. 10, Thursday
This morning we drive back to Evenes for the flight to Copenhagen, Denmark. After we check into our hotel, we will explore Nyhavn, the 17th-century waterfront and photograph the colorful houses and boats at sunset and twilight. The colors, the reflections, and the beautiful lighting all go into making classically beautiful photographs. This is a great place to create a panorama image where you stitch several frames together. Jim will explain to you how this is done. Overnight Phoenix Hotel, Copenhagen.
Day 7, Sept. 11, Friday
A lot of great photography awaits us today. In the morning we visit Round Tower for some very unique and graphically pleasing architecture shots. Then we photograph the beautiful Marble Church with its incredible domed ceiling. The interior looks awesome with an extreme wide angle lens.

Next, we photograph the changing of the guard at Amalienborg Palace, and then after lunch, we take a train for a half hour ride to the incredible Frederiksborg Castle where we'll be captivated by the magnificent exterior architecture as well as the sumptuous interior decorations. It was built in the early 17th century for King Christian IV for his royal residence. This is a great place for HDR and wide angle lenses. We return to Copenhagen for more twilight photography.Overnight Phoenix Hotel, Copenhagen.
Day 8, Sept. 12, Saturday

In the early morning light, we photograph the famous Little Mermaid, the icon of Copenhagen. We then visit the medieval clock tower for an aerial view of the city if you have the energy to climb the 400 steps to the top. The rest of the day is at leisure to photograph, download your pictures, and to select some images for Jim's critique. We meet a 4 pm for a final critique session, and again Jim will make Photoshop suggestions if he feels your pictures can be improved with digital techniques. Overnight Phoenix Hotel, Copenhagen.

Day 9, Sept. 13, Sunday
After breakfast, we transfer to the Copenhagen airport for our flight home, happy with the fact that we've taken wonderful photographs of subjects that can only be described as spectacular.

PLEASE NOTE

The international airfare you have to arrange is from home to Evenes Norway, and you will fly home from Copenhagen, Denmark. The flight from Evenes, Norway to Copenhagen, Denmark is included in the cost and Jim's wife, Dia, will book this for you.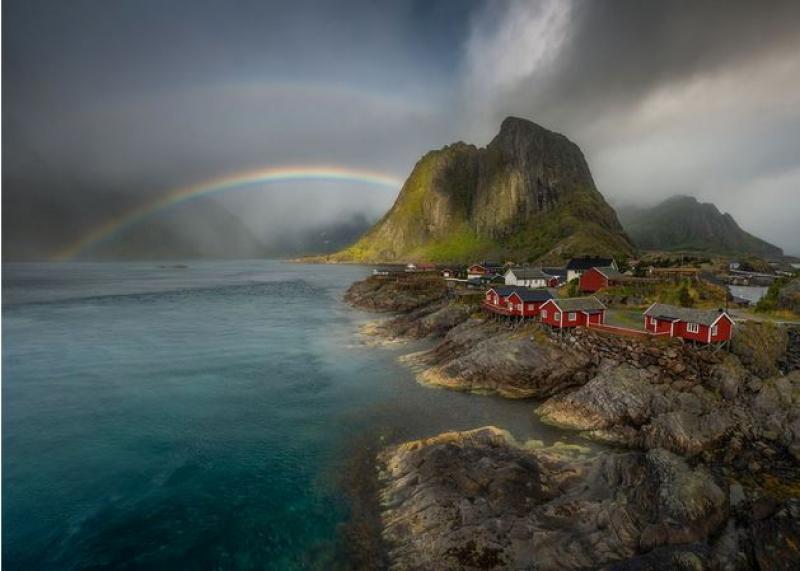 Jim Zuckerman