Photographic, Gastronomic and Cultural Tours in Occitanie
12.09.2020 - 19.09.2020 South West France |

Jon Davison photography, landscape, basics, nature, people, culture, history, adventure, travel 2950 EUR
ESP photo Tours, based in the medieval hill-top village of Cordes-sur-Ciel, offers personal one-on-one or small group photographic, gastronomic and cultural tours to the historic Occitanie region of southern France. An area that was the centre of the 13th century 'Cathar heresies', it was also one of the first wine growing regions of France. The tours are run by professional photographer Jon Davison and his wife Jude. The tour's main focus is for you to experience the culture in a more intimate way by meeting with the people who actually live and work there; local artists and artisans such as sculptors, painters, carpenters, wine makers, stone masons, farmers, a violin maker, shop owners and many more. You will be able to create your very own travel-photo-story. Over the eight days you will be immersed in the history and culture of this historic and stunning part of southern France. Cordes was the first 'Bastide town' (bastion) in the 13th century, and you will learn about the Cathar heresies that affected this part of France. For our group tours with 5 or more guests, we are joined by Western Australian guest photographer Kingsley Klau.
The tours take in the historic villages and towns of Albi, Cordes-sur-Ciel, Penne, Puycelci, Bruniquel, Najac, Varen, St Antonin Noble Val, Chateau Grandval, Ambialet, Castlenau-de-Levis and Belcastel. Within these locations we will find ruined castles, pigeonniers, vineyards, sunflower fields, farmscapes, churches and abbeys, medieval fortified towns and villages.
Corde-sur-Ciel is located on top of a hill at a height of 150m and has maintained its medieval appearance. Numerous buildings in Cordes are considered monuments historiques, therefore put on a preservation order. "Sur-Ciel" can be translated as "in the sky" which makes the village look like it is floating on clouds. Imagine capturing this picturesque view in your own artwork!
You will stay at Le Secret du Chat in Cordes, a lovely B&B that do fantastic gastronomic meals.
Jon will help you gain that all important 'photographer's eye', plus there is also the opportunity of free sessions in Photoshop with Jon, where you get to see just how important post production is to the craft of photography. Our courses are fun, informative and inspiring.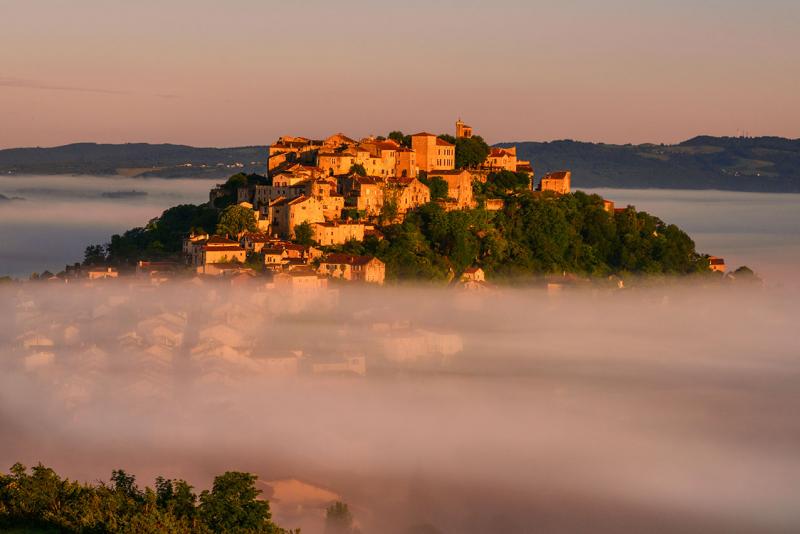 Jon Davison