Tuscany Photoworkshop Adventure
05.09.2020 - 12.09.2020 Tuscany |

Attilio Di Giangiacomo adventure, weather, travel, photography, outdoor, nature, life, landscape, informal, history, culture, basics, animals, wildlife 6995 USD
Experience a full sensory experience complete with amazing food, fine wine and breathtaking landscapes. Located in central Italy, Tuscany stretches from the Apennines to the Tyrrhenian Sea. Central Tuscany is dotted with medieval hilltop fortresses, vine-planted hillsides and sculptural stands of cypress trees; the northwest and east harbor boast dramatic mountain ranges and fecund forests; and the central and southern coasts feature a garland of islands floating tantalizingly close to a shoreline teeming with wildlife. The range of outdoor activities on offer is equally diverse, contributing to the region's reputation as a repository of grand-slam sights and experiences unmatched anywhere in the world.
Join us as we take picture-perfect postcards. We will explore medieval villages, historic towns, castles, country churches (the so-called pievi) and beautiful abbeys that are scattered all over. The architecture includes Romanesque, Gothic, Renaissance and Baroque. Walled medieval villages that sit high atop hilltops overlooking the vineyards grace this beautiful land. You'll be inspired during the countless opportunities to capture breathtaking photos.
This adventure is designed not only to guide you to the most photogenic locations carefully planned for the best light, but to aid you in mentally visualizing a scene before capturing the decisive moment. Our aim is to raise your awareness and spark your creativity so that you not only go home with images to be proud of, but use your new found skills to improve and expand your photographic technique in general. Apart from the technical aspect of learning your camera settings and capabilities, you will learn how to turn an ordinary image into an extraordinary image by using your own creativity.
In addition, you will become knowledgeable on how to survey the landscape, utilize and approach your environment, photograph people indigenous to the region and the cultural considerations and challenges of photographing in a foreign country. Our time together will include individual and group discussions, inspiring ideas and great fun. We cannot think of a better location to express your creativity than Tuscany!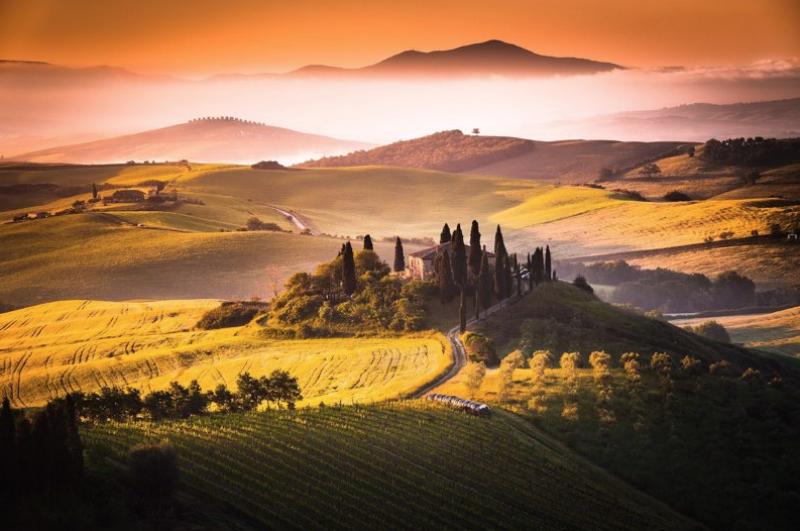 Attilio Di Giangiacomo