Assynt, Coigach and Torridon - Photo Tour
14.10.2020 - 18.10.2020 Western Ireland |

Colin Prior adventure, travel, sea, photography, people, outdoor, nature, light, life, landscape, informal, history, culture, basics, weather 1550 GBP
The particular feature about the mountains in this north-western world is their individuality. The most famous lie north, such as the jagged Quinag and the ancient mass of Ben More Assynt, with Canisp and Suilven beyond Inchnadamph. Suilven is a remarkable mountain, and anyone with a taste for geology could spend a few days here in a dream of Lewiswian gneiss, Cambrian quartzite, and Torridonian sandstone. Overlooking An Teallach, our base at Arvreck House is perfectly situated to access the landscapes of Assynt and Coigach. Locations have been carefully chosen to provide a blend of landscapes and seascapes which often bestow ethereal beauty and provide the photographer with rare opportunities. During the course of the workshop, there will be tutorials and a group critique session.
TRIP HIGHLIGHTS

Spend five days developing your photography skills with Colin Prior
Private en-suite accommodation at Ardvreck House
Enjoy fresh local cuisine at the Ceilidh Place in Ullapool
Climb Stac Pollaidh to capture dawn over Suilven and Cul Mo
Tutorials and critique sessions with individual feedback on each participant's work
Workshop restricted to nine clients plus Colin and assistant
Trip Itinerary
Below is a typical itinerary, which inevitably will change to take advantage of the optimum weather conditions on the day. The decision about the following days location is usually made the evening before when the most up-to-date weather forecasts have been studied.

Day 1 – Inverness, Torridon, Ullapool
Colin will meet you underneath the main display board in the arrival hall at Inverness Railway Station at 0830 on Tuesday morning. Inverness is a small station so it will be easy to identify Colin. On the final day of the workshop, we will return you to Inverness Railway Station at 1500, allowing clients to connect with the rail services south.

After the group has met, we will head for Torridon where we will spend the morning in Glen Torridon. After lunch, we will continue to Loch Maree where we will have the opportunity to photograph Slioch from a variety of locations. We will depart around 1530 for Ullapool following the coast road via, Gairloch and Poolewe, to arrive at Ardvrek House around 1730.
Day 2 – Clachtoll, Lochinver, Point of Stoer
Today we will drive north to Clachtoll where the white sandy bay gives way to a rocky foreshore. The beach is partially composed of beautiful boulders composed of Torridonian sandstone and Lewisian gneiss – the building block of the north-west Highlands. After lunch, we will head for Stoer Head Lighthouse and take a short walk across the moorland, which gives superb aspects back towards the lighthouse and the cliffs. If weather permits, we will continue on to the Old Man of Stoer. On our return, we will stop at a high-point which overlooks the mountains of Assynt and Coigach – Canisp, Suilven, Cul Mor, Cul Beag, Stac Pollaidh and Ben Mor Coigach can all be seen, linearly, on the horizon.
Day 3 – Stac Pollaidh
An early rise for the pre-dawn climb of Stac Pollaidh. A well-maintained footpath winds its way up and takes around one hour to reach our location on the north facing slope. Views over Loch Sionascaig, Quinag, Suilven and Cul Mor are amongst the finest in Scotland, particularly at sunrise. We will return to Ardvreck House for breakfast at 1000 and in the afternoon will explore the headlands and coral sands of Achnahaird Bay.
Day 4 – Achnahaird Bay, Garvie Bay
After breakfast, we depart for Garvie Bay – a 45-minute walk across the moorland takes us to a secluded beach where Suilven creates the perfect backdrop to the foreshore. After lunch, we will head back to Achnahiard follow the path along the cliff-tops overlooking Enard Bay. Here the views across the sea towards the Assynt mountains create a spectacular backdrop – Suilven, Cul Mor, Stac Pollaidh and Ben Mor Coigach punctuate the horizon with their enigmatic shapes.
Day 5 – Dundonnell
After checking out, we will drive to Dundonnell and ascend a high point, which gives unbroken views towards An Teallach. The well-wooded area has stands of mature trees, which eventually give way and the An Teallach Massif is revealed in its entirety. A 1300 departure will facilitate arrival at Inverness Station around 1500 where the workshop will conclude.
ACCOMMODATION & FOOD
Ardvreck House is modern, spacious property with a large lounge area and which commands great views across Loch Broom to An Teallach. Bedrooms are located on the upper level and each guest will have private accommodation with en-suite facilities. Dinner is at The Ceilidh Place where the best seasonal produce from the Highlands is served. The restaurant has a 'Fairtrade' status and a policy of buying the best of local produce too. The restaurant offers an excellent choice of wines, beers and whiskies.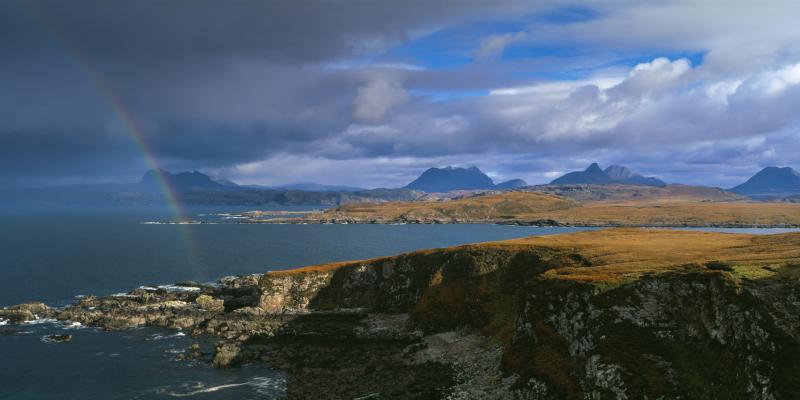 Colin Prior