Expressive Landscape with Acrylic Mixed Media - Painting Course
04.10.2020 - 09.10.2020 Lake District |

Robert Dutton abstract, acrylics, excursion, landscape, mixed media, painting 510 GBP
This very popular acrylic mixed media art holidays at Higham Hall explores creative and expressive techniques with acrylics, acrylic inks and oil pastels - often in the same study to create really exciting paintings. A course that appeals to both the acrylic artist and for artists of different levels of ability wanting to explore greater depth in their work adding textures, expression, layered effects and so much more experiencing painting in a very expressive way!
The emphasis is on creating mark making on different surfaces using palette knives, big brushes, card and so on utilising different surface qualities such as canvas, canvas board, mdf, several mixed media supports... and so much more!
You will learn how to create your very own unique surfaces in the studio too in response to your landscape studies and sketches on these different painting surfaces (together with photos if you wish) gathered from different and dramatic Lakeland landscape viewpoints - locations carefully selected with this art holiday in mind.
Taken 'trouble feee' on short scenic tours by Higham Hall mini-bus to your stuning painting locations this is another great opportunity for you to sit back and relax and be inspired by The Lake district even more!
The landscape surrounding Higham Hall is some of the best and unspoilt landscape in the whole of The Lake District. It's truly a magical (and beneficial) experience to engage directly with your landscape (weather permitting) drawing and painting (media of your choice but usually charcoal with other black and white media) to draw freely enjoying 'the great outdoors'.
In all, this is a very unique opportunity for a different way of working with an expressive painting approach on this art holiday and gives you a great insight into Roberts popular techniqes to learn lots of new and exciting painting approaches gaining lots of practical experience throughout the week.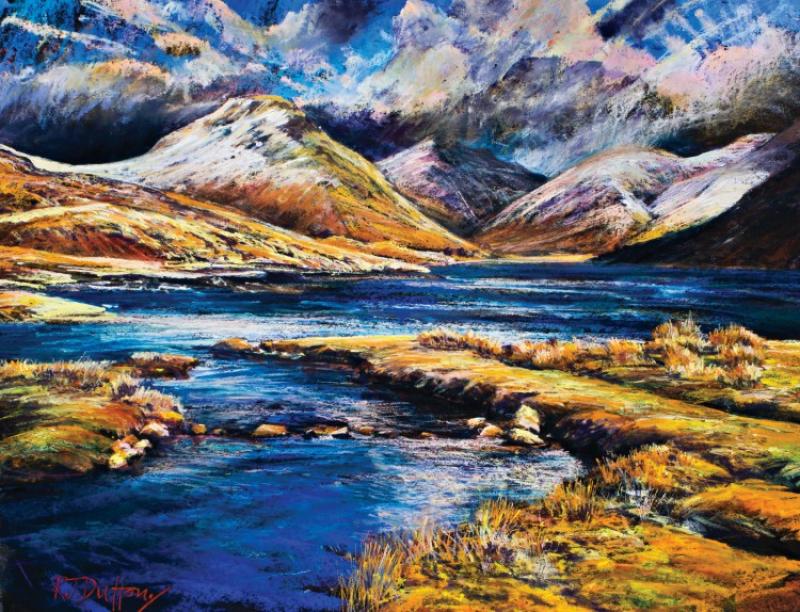 Robert Dutton