How to paint atmospheric paintings 'en plein air'
06.10.2020 - 16.10.2020 Tuscany |

Frank Eber painting, culture, plein air 3849 USD
Bring your painting skill to a higher level! Learn how to paint luminous paintings by manipulating tonal values, color and edge. In this class, Frank will share advanced painting techniques to create atmosphere, balance and unity in your work. Topics will include design and composition, color and lighting, positives and negatives, simplification of shape, and atmospheric effects. The techniques you will learn in Frank's workshop transcend the watercolor medium. Separate yourself from the watercolor crowd and experience firsthand why his courses are so popular! Small class settings only. Please sign up early!
A painter's painter, Frank Eber works in a direct, loose style influenced by the Old World masters. Typical in his art are color mixes and light that evoke nostalgia while remaining absolutely in the present. Frank's watercolor workshops reach beyond technique, encouraging individual expression and observing the elusive balance of forces that create beauty in painting.
All levels are welcome but students should have an understanding of the watercolor medium and of simple one point perspective. Frank stresses a solid foundation in the basics, "…so that our focus is on creating timeless art. An emotional link is necessary in our work, as well as the connection to the vibrancy of everything we paint."
Day-by-day workshop schedule
Day-1: 06th Oct
The arrival day! Group will be picked up from Pisa airport or Lucca Station. Arrival, unpack, settle in Villa , time to rest. Around 18:00, Welcome gathering with Frank and Karolina on day-to-day schedule and workshop plan, goals, and challenges. Dinner – best of Italian cuisne 5 course meal made by our Chef,Verbencello tutorial.
Day-2: 07th Oct
Home day! Recovery Day…breakfast 9.00 time to relax and enjoy surrounds – first instructional session with Frank. Lunch at 13:00 under Pergola prepared by our chef. Post lunch it is time to relax, take a walk, paint . 17.00 open bar-gathering for cocktails. Dinner prepared by our villa Chef at 19.00.
Day-3: 08th Oct
Breakfast at 8:30am , 9.00 Departure to the medieval town of Pietrasanta, known as the "City of Artists," has deep roots in Italy's legacy of art and sculpture. Painting Session with Frank around 13.00 departure to Viareggio the main city of the northern Tuscan Riviera area of Versilia, Viareggio began as a medieval fishing village, then later gained renown for its shipbuilding. 14.00 Meeting for Lunch on molo for fried sea food feast, picnic at the beach with Prosecco,after time on own to shop,expore or relax at the beach.Back home 17.00
Dinner home 19.00
Day-4: 09thOct
Home day! Breakfast at 8:30am followed by session with Frank around St.Lorenzo Church and the valley view. Lunch at 13:00 .Time to relax , around 16:30, the group will enjoy cooking lesson and prepare dinner for everyone 19.00for non-cooks , massage (on own cost) by our specialized masseuse Charlotte!
Day-5: 10th Oct
08.30am: Breakfast, 09.30am: Introduction to Lucca,time for exploring,lunch and shopping ,with a map in your hand.
14.30 afternoon painting session with Frank in beautiful Palazzo Pfanner gardens.
18.45pm.Back Home for dinner
Day-6: 11th Oct
Home day! Breakfast at 8:30am followed by session with around villa.. Lunch at 13.00. Post lunch it is time to relax. 15.00 Back to Lucca for more painting or exploring 18.45 Classical concert,dinner in our favourite restaurant.
Back home 23.00
Day-7: 12th Oct 8.30am
En route day! Breakfast and Departure to Ponte Del Diavolo for Painting session(approx 3h) The bridge at Borgo a Mozzano, called "The Devil's Bridge" or the "Maddalena Bridge" is certainly the most beautiful bridge in the province of Lucca, and one of the most suggestive in Italy. Many legends were born from its myterious construction and its singular design, with one large arch flanked by three smaller ones, inspired the works of many artists
Lunch on own in Barga :,Free time to explore the city.
Departure at 17.30
Dinner home 19.00 Pizza Party!
Day-8: 13thOct
Breakfast at 8:30am followed by painting instruction by Frank and capturing the countryside(Top of the Cappella Hill). Lunch at 13.00. Post lunch it is time to relax. Around 16.00, the group will depart for wine tasting in best Bio-Dynamic winery. At 19:00, back home for dinner.
Day-9: 14th Oct
Time to explore Tuscany!After Breakfat 09.00am A day trip to Portovenere – most beautiful coast town with spectacular views .Session with Frank, time to shop, explore and relax on own (with a map in hand). Lunch on own . Return home at 16:30. Dinner at 19:00.
Day-10: 15thOct
The last day of workshops! You'll start the day with breakfast at 8:30am. The group will finish their art works. After lunch at 13.00pm, there'll be time to pack, relax, and rest. Later in the afternoon, we'll create a gallery with all of your works! You'll enjoy this with a spritz and casual spuntini. At 19.00pm there'll be a glamorous gala dinner offering the best Tuscan cuisine. You'll have a five-course meal prepared by our chef along with homemade verbencello.
Day-11: 16th Oct
Departure day Breakfast at 8:30am. After breakfast, the group will be taken to Lucca train station or Pisa airport.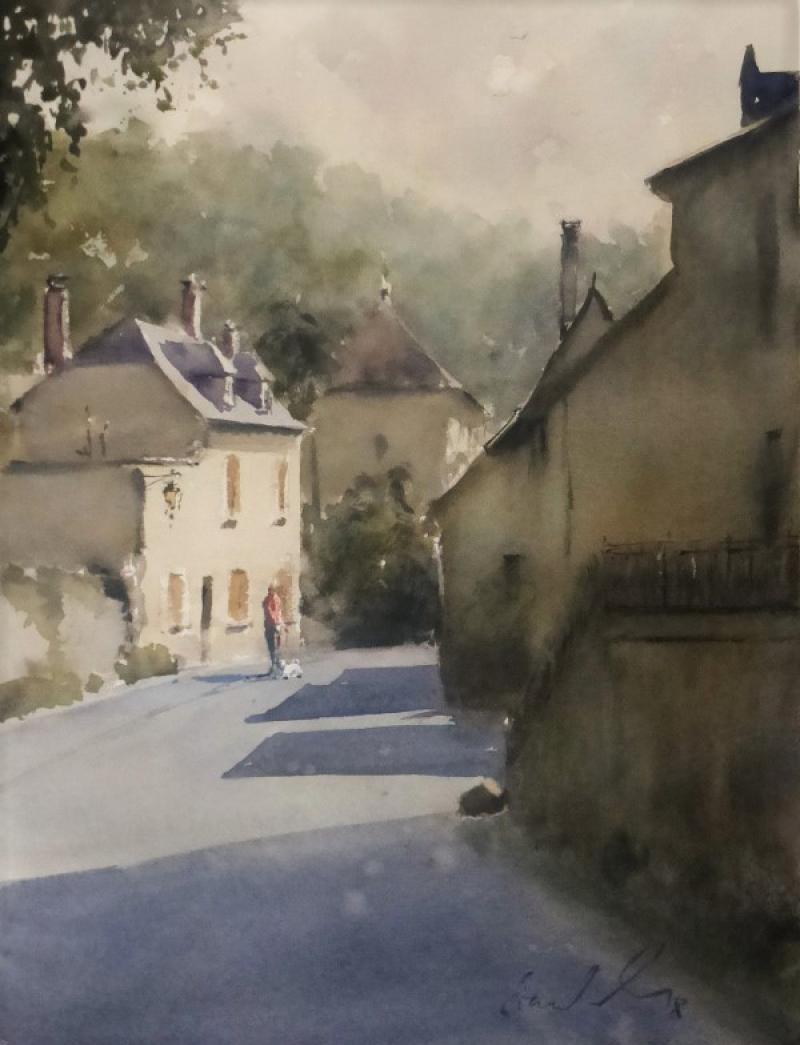 Frank Eber