Assynt, Coigach and Torridon - Photo Tour
28.04.2021 - 02.05.2021 Western Ireland |

Colin Prior adventure, basics, culture, history, informal, landscape, life, light, nature, outdoor, people, photography, sea, travel, weather 1650 GBP
The particular feature about the mountains in this north-western world is their individuality. The most famous lie north, such as the jagged Quinag and the ancient mass of Ben More Assynt, with Canisp and Suilven beyond Inchnadamph. Suilven is a remarkable mountain, and anyone with a taste for geology could spend a few days here in a dream of Lewisian gneiss, Cambrian quartzite and Torridonian sandstone. Our base at Arvrek House is a perfect base to access these landscapes and throughout the workshop, there will be opportunities to shoot at dusk, if conditions are favourable. Otherwise, we set off after breakfast for our chosen location – a journey that normally takes around one hour. If conditions dictate, we have the option of eating early and heading out to a location for sunset. During the course of the workshop, there will be tutorials and a group critique session.
TRIP HIGHLIGHTS

Spend five days developing your photography skills with Colin Prior
Private en-suite accommodation at Ardvreck House
Enjoy fresh local cuisine at the Ceilidh Place in Ullapool
Circumambulation of Stac Pollaidh with views to Suilven and Cul Mor
Tutorials and critique sessions with individual feedback on each participant's work
Workshop restricted to nine clients plus Colin and assistant
Trip Itinerary
The itinerary may be subject to change to suit weather conditions on the day.

Day 1 – Inverness, Torridon, Ullapool
Colin will meet you underneath the main display board in the arrival hall at Inverness Railway Station at 0830 on Friday. On the final day of the workshop, we will return you to Inverness Railway Station at 1500, allowing clients to connect with rail services south. After the group has assembled, we will drive to Kinlochewe and spend the morning in Glen Torridon. Following lunch, we will drive to a location where Slioch rises from the north shore of Loch Maree, behind stands of ancient Scots pine. Our departure for Ullapool will follow the coast road through Gairloch and Poolewe, to arrive at Harbour House around 1715.
Day 2 – Bay of Clachtoll and Point of Stoer
After breakfast, we will head north along Loch Assynt to the Bay of Clachtoll, stopping at various locations. The crescent shaped bay gives way to a rocky foreshore that runs out to a white sand beach. At low tide, deep rock pools reveal a microcosm of marine life that often trigger childhood memories. Our second location takes us to Stoer Head Lighthouse where a short walk across the moorland, gives superb views back towards the seacliffs and lighthouse. If weather permits, we will continue out to the Old Man of Stoer – an impressive 60 m (200 ft) sandstone sea stack. On our return journey, we will stop at a high-point overlooking the mountains of Assynt – Canisp, Suilven, Cul Mor, Cul Beag, Stac Pollaidh and Ben Mor Coigach can all be seen, linearly, on the horizon.
Day 3 – Garvie Bay and Lochinver
After breakfast, we will watch a tutorial designed to improve your photographic skills, after which we will depart for a secluded bay in Coigach. A moorland walk takes us to a headland where Suilven creates the perfect backdrop. We return to the vehicle and follow the coast road to Lochinver, stopping en route, to capture the lochans and mountains of the Assynt landscape – Suilven, Cul Mor and Cul Beag.
Day 4 – Achnahaird Bay
Our journey today will take us down the Achiltibuie road to Achnahiard Bay where we will follow a moorland path along the cliff tops which overlooks Enard Bay. From an elevated viewpoint, the mountains of Assynt and Coigach stretch out in a panorama in what is one of the most inspiring views in Scotland – from Suilven in the west, through Stac Pollaidh to Ben Mor Coigach in the south. We will return to Harbour House around 1500 to prepare for the group critique.
Day 5 – Dundonnell
After breakfast, we will check out of Harbour House and drive to Dundonnell. Here, if conditions permit, there is the opportunity to climb to a high point which overlooks An Teallach. Alternatively, there are wooded areas that follow the course of the River Dundonnell falling in a series of waterfalls to its estuary at Little Loch Broom. Following lunch at 1300, we will depart for Inverness Station and arrive at 1445 where the workshop will conclude.
ACCOMMODATION & FOOD
Four nights, single occupancy, en-suite accommodation at Harbour House, Ullapool. Dinner is at The Frigate, which offers excellent cuisine and is a five-minute walk along the sea front from the hotel.
https://thefrigateullapool.com/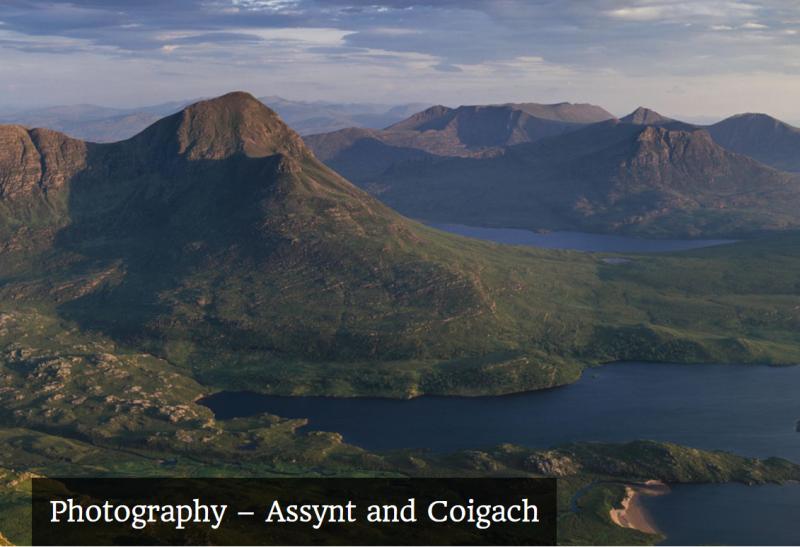 Colin Prior