Islay
20.04.2021 - 25.04.2021 Western Scotland |

Colin Prior adventure, excursion, landscape, light, nature, photography, travel, wildlife 2199 GBP
Lying between the Scottish mainland and the coast of Ireland is the crescent-shaped island of Islay. Home to the Lord of the Isles for hundreds of years, the Queen of the Hebrides revels in her sea inlets, appearing and disappearing, vivid under the sun in hues of opal, cobalt blue and turquoise. These glimmering sea lochs like tiny oceans, with rocky headlands and bays are a haven for wildlife; waders and wildfowl, golden eagle and hen harrier. There is much here for the photographer to discover. We are based at the Port Charlotte Hotel located in the conservation village of Port Charlotte. The hotel is recommended in Michelin and Good Food Guides and is highly rated in the Best of Scotland Guide. The residents' lounge and public bar feature open fires where guests can unwind with convivial company. We are based at the Port Charlotte Hotel located in the conservation village of Port Charlotte on a beach-side location with stunning sea views to Loch Indaal. The hotel is recommended in Michelin and Good Food Guides and is highly rated in the Best of Scotland Guide and holds a 'Taste our Best' Certificate awarded by Visit Scotland.
Overview
Spend six days on location with Colin Prior
Enjoy access to some of the most varied and dramatic locations in Scotland
Five nights, single occupancy accommodation at the Port Charlotte Hotel
Breakfast, three course dinner and packed lunch
Transport to and from Glasgow Central Station
Tutorials and critique session with individual feedback
Group size restricted to seven
ITINERARY
Day 1 – Glasgow, Kennacraig, Islay
Colin will meet you at 0900 within Glasgow Central Station in front of Burger King. After the group has met, we will drive to Kennacraig to board the ferry to Islay which departs at 1300, arriving at 1505. We will continue our journey to the Port Charlotte Hotel where we will check in and the depart for our first location.
Day 2 – Saligo Bay and The Oa
An early morning rise to capture the sunrise at Saligo Bay where marram grass dunes overlook the Atlantic. Following breakfast at the hotel, we will drive to the Oa peninsula situated in the south of the island. The elevated sea cliffs afford great views in all direction – north to Eileanan Mora and Loch Indaal and east to Beinn Mhor and Port an Eas.
Day 3 – Loch Gruinart and Sanaigmore Bay
After breakfast we drive north, towards Loch Gruinart where white sand beaches are backed by an expansive tidal estuary, often seen in shades of blue-green turquoise. At the end of the peninsula, Ardnave Point, lies beyond the dunes and overlooks Nave Island. The area is an RSPB Reserve and is rich in all kinds of bird life, particularly waders and wildfowl. After an early dinner, we will reposition for sunset at Sanaigmore Bay.
Day 4 – Machir Bay and Jura
An early rise to shoot over the white sands of Machir Bay, followed by breakfast. We will then depart for Port Askaig and cross the Sound of Islay, by ferry, to Jura. During the day we will explore Jura's coastline, shooting at several locations, including Craighouse's coastline and Lowlandman's Bay, before returning to Islay for dinner.
Day 5 – Lower Killeyan and Claggain Bay
Dominated by cliffs and sea stacks, the bay at Lower Killeyan forms an amphitheatre overlooking Loch Indaal. The south-west coast of The Oa is home to a wide variety of birds, which includes golden eagle, peregrine falcon and hen harrier. After lunch, we head north west along the coastal road to Claggain Bay.
Day 6 – Port Askaig, Kennacraig and Glasgow
After checking out, we will drive to Port Askaig and board the ferry which departs at 0945 and arrives at Kennacraig 1150, which should put us comfortably back in Glasgow for 1500 where the workshop will conclude.
PHOTOGRAPHY EQUIPMENT
The information below is intended as a guide to help you achieve the most from this workshop.
All brands of cameras and lenses do exactly the same thing; they look outwardly into the world and record what they see on different sized sensors. The only thing that differentiates what they see is not the camera but the person looking through the viewfinder. So, what will help you gain most from this workshop is a familiarity of your own camera's layout and menu structure and an understanding of the relationship between shutter speed, aperture and ISO.
Consider a camera bag that is comfortable and which allows you carry your equipment over uneven terrain. Backpacks distribute the weight evenly between your shoulders and hips and are normally supplied with a rain cover.
Lenses are very much a personal choice and will be influenced by the subjects which you, as a photographer, pursue. For many outdoor photographers, the combination of two lenses – either a 24-70mm or 24-105mm and a 100-400mm provides them with the ability to shoot from 24-400mm with just two lenses. If working within the landscape is something that appeals to you, then a 90mm or 100mm Macro lens opens up myriad possibilities.
Under certain circumstances, filters are indispensable. Graduated neutral density filters control contrast locally and come in a range densities and graduations. I use, almost exclusively, a 0.6 (2 stop) filter with a soft graduation. A polarising filter is also extremely useful for a number of scenarios and worthwhile having in your camera bag.
A tripod is essential for landscape photography. The emphasis should be on a relatively lightweight model which is easy to carry. The disadvantage of a lightweight tripod is that it is more vulnerable in high winds to both camera shake and to the risk of being blown over. One important factor when considering a tripod is that you can work comfortably with your camera at eye-level – many 'travel tripods' reach their maximum height below this height. Carbon fibre tripods are lighter and more expensive than those made from aluminium but do the same job.
Backup and storage – always a good idea to have your images in more than one place. A laptop or iPad is ideal and will allow you to see what you have shot each day and will facilitate feedback.
A remote release is essential. Whether it is a cable, IR device or a phone app it will ensure sharp photographs.
Spare batteries – batteries can be re-charged as required, however it makes sense to bring spares.
Lens cloth – a lens cloth is useful for removing rain or sea spray if it finds its way onto a lens.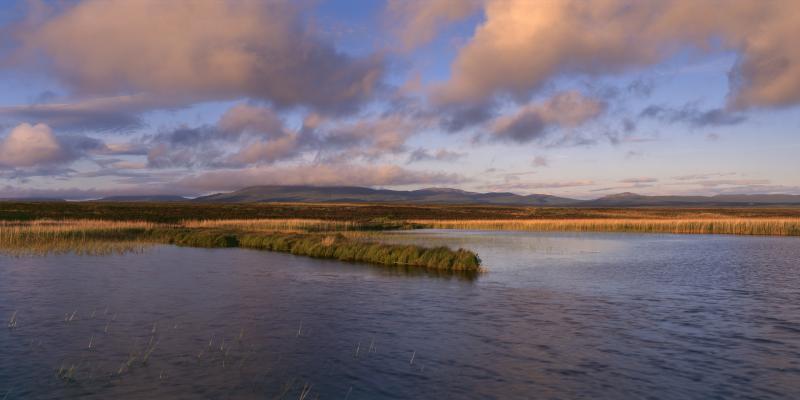 Colin Prior