Isle of Skye and the Small Isles: Photography Tutor Onboard
11.08.2021 - 17.08.2021 Western Scotland |

Gary Barber photography, sea, adventure 2040 GBP
A mini cruise around the sea lochs of the Isle of Skye and the Small Isles (Muck, Eigg, Rum and Canna) has to be one of the best ways to visit the Hebridean islands. Extraordinary Scottish wildlife is everywhere from minke and occasional killer and humpback whales, dolphins, porpoises, basking sharks, otters to many species of rare sea birds, especially sea eagles.
Throughout the mini cruise you will anchor in secluded and tranquil sea lochs and sail against a spectacular backdrop of dramatic, pristine island coastlines, high sea cliffs, wild mountains and forests. For extra fun, bring your kitesurf or windsurfer, swim from the boat and don't forget your hiking boots for stunning island walks.
You start your cruise from Oban (Dunstaffnage marina), and visit or sail past the stunning Small Isles and the west coast of Skye, which in Loch Scavaig has the most spectacular wilderness anchorage in the whole of Scotland. We travel along the west coast of Skye and at the next anchorage you can even visit Skye's famous Talisker malt whisky distillery.
In addition, on this cruise, we have onboard, for your enjoyment, a photgraphy tutor. During the cruise you will discover how to get the best from your camera to capture the stunning scenery and amazing wildlife on offer in this glorious part of the British Isles. Gary will share his knowledge to help you create some fabulous memories of your holiday. From slow shutter-speed scenery compositions to ultra-fast shots of birds in flight. Since his teens Gary has been passionate about photography, especially wildlife. Today he is a regular visitor and photographer of the nature reserves in Norfolk, Wales and the Lincolnshire coast. His favourite bird to photograph is the short-eared owl! You don't have to take advantage of Gary's tutoring but, if you wish to do so please let us know when you book your cruise.
This cruise can be a six, seven or eight night itinerary depending on the dates you choose to travel.
Please note that your voyage is weather dependent. Weather doesn't just mean good or bad weather. There are many considerations such as tidal gates, wind direction and strength, the strength and direction of currents, overfalls, and fetch. Depending upon the weather and nature's conditions, wildlife viewing varies.
If you wish to visit a specific place or have a specific experience, such as sea eagle tours or whisky tasting, then please do let your skipper know and he will endeavour to meet your request.
Some of the places we may visit are:
Oban: Your departure point will be Oban (Dunstaffnage Marina), the gateway to the Hebridean isles. After a short introduction to life on board our small ship we depart for our first destination.
Loch Aline: In the picturesque Loch Aline there are woodland walks and, at the head of the loch, is ancient Ardtornish estate and woodland gardens.
Tobermory: One of the most picturesque towns in the Hebrides. If you wish, we can make time to visit the local distillery or visit eagles (Mull is the best place in the UK to see eagles).
Rum, Loch Scresort, the Small Isles: Rum Island is a National Nature Reserve and famous for its herds of red deer and sheer sea cliffs which are home to nesting sea eagles. A visit to the Kinloch castle near the anchorage is definitely worthwhile.
Canna, the Small Isles: Canna is possibly the most beautiful of all the Small islands. Its 200 metre high cliffs of Compass Hill rise dramatically out of the sea and we have a good chance of seeing both sea and golden eagles. The anchorage on Canna is one of the best of the Small Isles and a stroll ashore to see the puffins and wild flower meadows of Sanday's Machair is a pure delight.
Loch Scavaig, Isle of Skye: The most dramatic anchorage in Scotland, if not Europe. The loch is situated below the mighty Black Cuillins mountains, famous for their difficult rock climbs, and a large colony of seals on Sgeir Doigich. Make sure to make time to enjoy this breathtaking wilderness.
Loch Harport, Isle of Skye: Home to the famous Talisker malt whisky distillery.
Loch Drumbuie: Just south of Oronsay is secluded Loch Drumbuie, situated between the island and the mainland. A squeeze between high sided cliffs and we are in a perfectly sheltered anchorage.
Loch Spelve: A narrow entrance leads us in to the tranquil waters of Loch Spelve with its surrounding ancient oak forest. The anchorage gives us a different perspective than our previous views of the wonderful mountains of Mull. There are resident otters along the loch's shoreline.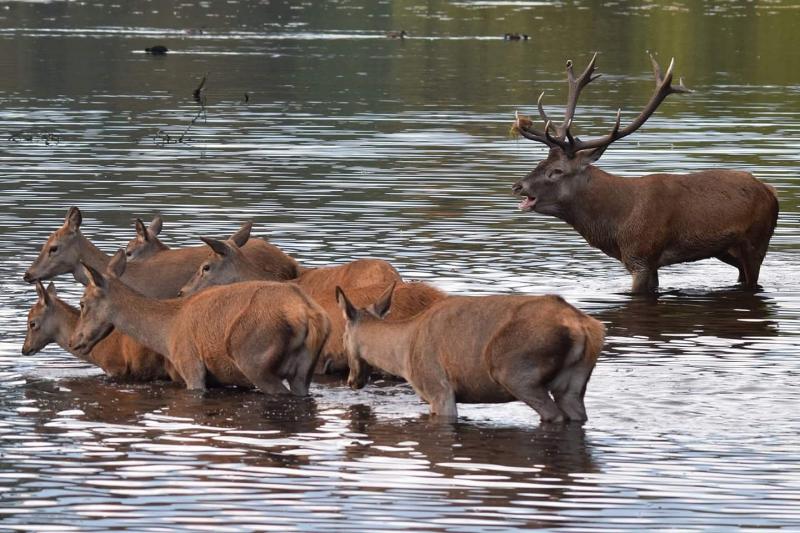 Gary Barber