The Light of Tuscany
06.08.2021 - 16.08.2021 Tuscany |

Alex Hillkurtz painting, sketching, watercolour, watercolor, landscape, urban, excursion 3799 USD
In this workshop Alex will teach you techniques to enhance the story you want to tell with your painting: composition, perspective, lighting, detail (or lack of detail). You will work in watercolour sketchbooks, and larger sheets, and the media will be pencil, pen and ink, and watercolour. He will show how he chooses a composition designed to draw your eye into a piece. Using a quick pencil sketch to jot down spontaneous ideas, then moving to ink for rough details, and finally watercolour, he will show you how he "sees" the subject on the page, and how to avoid common mistakes. He will share insights about the importance of light and shadow to define shapes, perspective to add depth, and colour to tell a story. Most of all you will have fun! You'll come away with a sketchbook you can be proud of, full of your unique paintings and colorful memories of this beautiful part of the world.
Workshop Highlights
Instruction by Alex
Best Italian Food&Wine during entire stay
Day trip to Portovenere
Day trip to Cortona
Healing massages
Healthy cooking lesson with personal Chef
Lucca town tour
Viareggio and Pietrasanta day Tour
Wine Tasting
Yoga class
Classical concert in a Romanesque church
Glamorous Tuscan farewell dinner
Pizza Party
Day-by-day workshop schedule
Day-1:
The arrival day! Group will be picked up from Pisa airport or Lucca Station at 4:00pm. Arrival, unpack, settle in Villa , time to rest. Around 18:30, Welcome gathering with Alex and Karolina on day-to-day schedule and workshop plan, goals, and challenges. Dinner – best of Italian cuisne 5 course meal made by our Chef
Day-2:
Home day! Recovery Day…breakfast 9.00 time to relax and enjoy surrounds – first instructional session with Alex. Lunch at 13:00 under Pergola prepared by our chef. Post lunch it is time to relax, take a walk, paint or sketch. 17.00 happy hour-gathering for cocktails. Dinner prepared by our villa Chef at 19.00.
Day-3:
Breakfast at 8:30am , 9.30 Departure to Viareggio. The main city of the northern Tuscan Riviera area of Versilia, Viareggio began as a medieval fishing village, then later gained renown for its shipbuilding. Arrival painting time with Alex or time to take a walk and shop on own.13.00 Meeting for Lunch on molo for fried sea food feast, picnic at the beach with Prosecco. 14.00 Departure for the medieval town of Pietrasanta, known as the "City of Artists," has deep roots in Italy's legacy of art and sculpture. Time to enjoy on own for coffee or Gelato. Return home 17.30. Dinner home 19.00
Day-4:
Home day! Breakfast at 8:30am followed by session with Alex around St.Lorenzo Church on the hill side. Lunch at 13:00 .Time to relax , around 16:30, the group will enjoy cooking lesson and prepare dinner for everyone 19.00. For non-cooks, massage (on own cost) by our specialized masseuse Charlotte!
Day-5:
08.30am: Breakfast, 09.30am: Introduction to Lucca, walking tour with the guide (2h)After time for lunch and shopping ,with a map in your hand.
15.30 afternoon painting session with Alex in beautiful Palazzo Pfanner gardens.
18.45pm: Puccini concert in a Romanesque church , dinner at our favourite restaurant.
Return Home 22.30
Day-6:
Home day! Breakfast at 8:30am followed by session with Alex around villa.. Lunch at 13.00. Post lunch it is time to relax. 16.00 Cooking class for second part of group-For non-cooks optional massage with Charlotte. Dinner 19.00
Day-7: 11th May 8.00 Quick Breakfast and Departure to City of Cortona
A free day to Explore the town on own with a map in your hand,Lunch on Own
In the new millennium, the fairytale hilltop town of Cortona tends to draw visitors who are dreaming of Tuscany after watching Diane Lane live la dolce vita in Under the Tuscan Sun, the film adaptation of Frances Mayes' beloved memoir, in which Mayes restored a "fixer-upper" of a villa in the countryside. With the olive groves dotting the area and the panoramic views from the top of the town walls, it's easy to see why so many visitors fall in love with this typically Tuscan town….
Departure 16.30
Day-8:
Breakfast at 8:30am followed by painting instruction by Alex and capturing the countryside. Lunch at 13.00. Post lunch it is time to relax. Around 16.00, the group will depart for wine tasting in best Bio-Dynamic winery. At 19:00, back home for dinner.
Day-9:
Time to explore Tuscany! 09.00am: Breakfast en-route. A day trip to Portovenere – most beautiful coast town with spectacular views .Session with Alex, time to shop, explore and relax on own (with a map in hand). Lunch on own . Return home at 16:30. Dinner at 19:00.
Day-10:
The last day of workshops! You'll start the day with breakfast at 8:30am. The group will finish their art works. After lunch at 13.00pm, there'll be time to pack, relax, and rest. Later in the afternoon, we'll create a gallery with all of your works! You'll enjoy this with a spritz and casual spuntini. At 19.00pm there'll be a glamorous gala dinner offering the best Tuscan cuisine. You'll have a five-course meal prepared by our chef along with homemade verbencello.
Day-11:
Departure day Breakfast at 8:30am. After breakfast, the group will be taken to Lucca train station or Pisa airport.

Who is coming?
Anyone interested in sketching and painting the beauty of Tuscany… anyone who's ever wanted to fill a sketchbook with beautiful images of their travels… anyone who wants to improve their comfort with watercolour. Sketching and painting can be a form of meditation, a chance to slow down and experience a place like no other. We will have plenty of time together to explore techniques to capture this timeless scenery.
What if I'm not a great PAINTER?
Experience level doesn't matter, the important thing is to have fun! We will start out slow, with basic concepts, and gradually build throughout our time together. Watercolour is a wonderfully playful and expressive medium, and sometimes "mistakes" are the best part of a painting. I'll take the mystery and intimidation out of watercolour for you! Group size will be small, so there will plenty of time for personalized instruction.
What if I'm not interested in PAINTING?
There are many other experiences scheduled, and lots to do in the area. There will be something for everyone.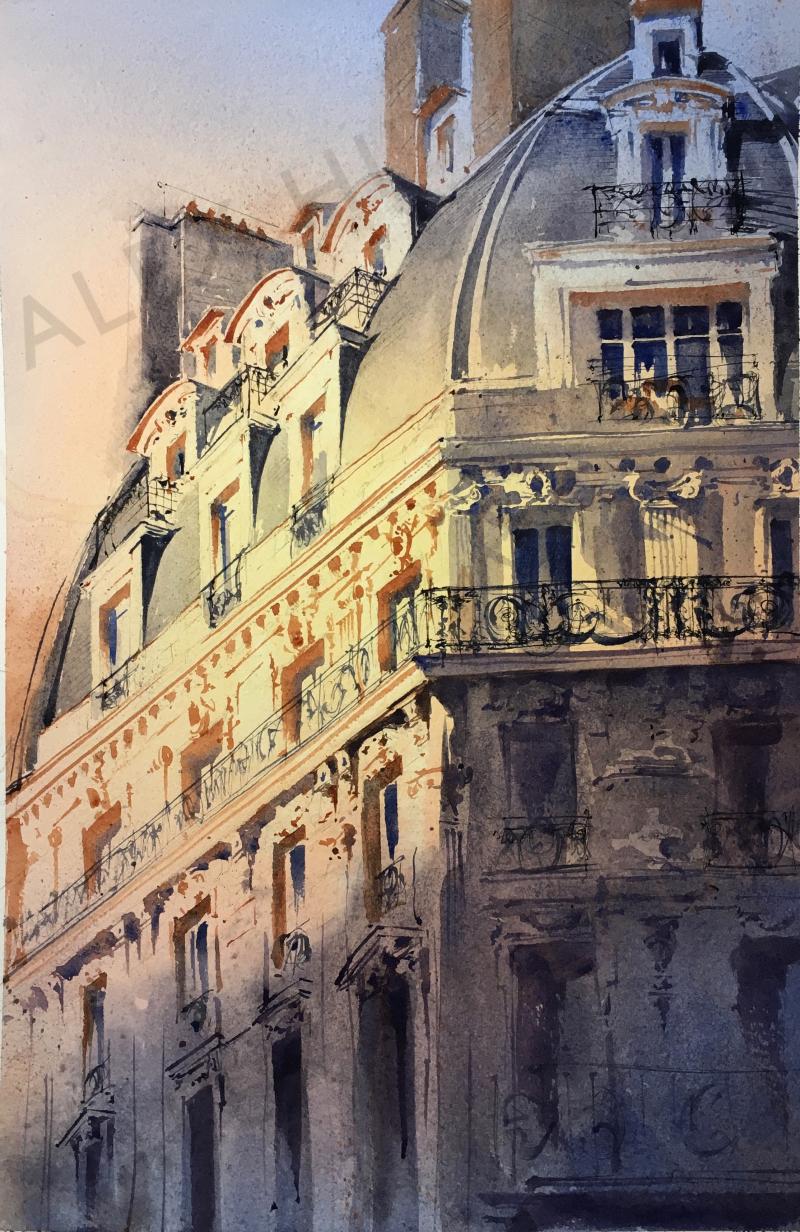 Alex Hillkurtz