Finding your Voice
24.09.2021 - 01.10.2021 South West France |

David Wilcox painting, figurative, landscape 850 GBP
A big 'bienvenue' to tutor David Wilcox who will be teaching watercolour painting and techniques to artists of all abilities from complete beginners to more experienced artists. We will be working from life in the beautiful French landscape in and around La Salle or in the Studio from 'life' or photographs.
David will be leading this 7 night painting holiday at La Salle, our beautiful farmhouse B&B in South West France. We will be painting both in the studio and on location in some of the listed 'plus beaux villages de France' and in many inspiring locations and gardens on the 'route de St Jaccques de Compostelle'. A fabulous itinerary awaits.
SAMPLE ITINERARY FOR 7 NIGHT PAINTING HOLIDAY
Please note the itinerary may be subject to minor changes due to weather and/or after consultation with your tutor.
Day 1
Pick up at Toulouse Blagnac Airport, transfer to La Salle and settling in. Introductions, a tour of the house, the all important studio, gardens and time for a well deserved apero with fellow guests before a relaxing 3 course dinner with wine on the terrace.
Day 2
Leisurely breakfast and into the studio for 9.30am for your first painting session with your tutor. Lunch at 1pm on the shady terrace and time to relax before your next painting session. Opportunity for some 'plein air sketching in the garden or working in the studio.
5pm Tour of and wine tasting at Chateau Monluc and time to explore the village, maybe take a few photos for reference.
Day 3
Breakfast and a day out to the local beautiful 'Jardins de Coursiana' or the magnificent water gardens of 'Latour Marliac' where Monet bought the water lilies for his famous gardens at Giverny. Lots of time to sketch, take reference photos and paint. We take a picnic lunch to make the most of this wonderful painting opportunity. Home in the afternoon and time to continue your painting or relax in the pool before a delicious dinner with wine.
Day 4
Breakfast and into the studio for your next painting session. Lunch on the terrace. An afternoon of painting 'en plein air' or in the studio or garden (depending on the weather) Dinner at La Salle.
Day 5
A trip to the UNESCO World heritage site at La Romieu, a picnic lunch in the village and again some photo or sketching opportunities before returning home. An afternoon of painting with your tutor. Dinner at La Salle.
Day 6
Breakast and a day of painting in the studio, gardens or village. Lunch at La Salle before an afternoon of painting with your tutor, A BBQ in the evening at La Salle. 4pm A visit to the Abbaye de Flaran and the Simonov exhibition of 20th Century paintings which includes work by Monet, Cezanne, Picasso and others.
Day 7
Breakfast followed by painting time with your tutor and finishing off any work. Time to reflect on the week's acheivements. Lunch on the terrace and a late afternoon trip by canoe down the river Baise (optional subject to season) 7.30 pm 3 course dinner at a local restaurant.
Day 8
Breakfast and 'au revoirs'. Transfer to Toulouse Blagnac Airport.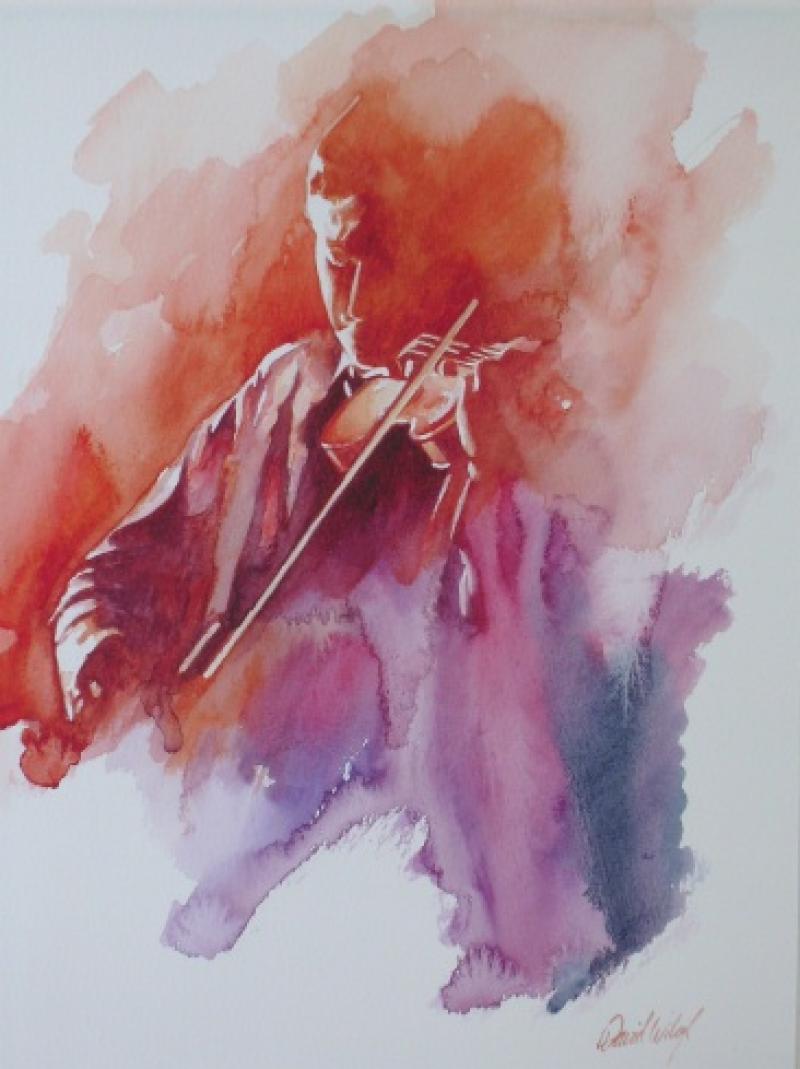 David Wilcox