Gauguin Painting Holiday at Le Pouldu
11.09.2021 - 18.09.2021 Brittany |

Janis Fry acrylics, excursion, landscape, mixed media, painting, sketching, urban, watercolor 875 GBP
Le Pouldu in Southern Brittany is the place Gauguin called 'Nirvana' and where he spent his 2 most formative years coining his style. It is as if you step outside of time when you come here, into a 'lost domain'. The week all too soon flies by but is an unforgettable memory. Your inspired tutor, Janis Fry, is a Specialist Art Teacher and member of the Royal Watercolour Society of Wales. Recently one of her paintings was bought by the Museum of Modern Art, Machynlleth, Wales and she has exhibited work in Paris, Reykjavic and the London Mall Galleries.
Other dates possible by arrangement!

The following itinerary and course description is a guide and not set in stone. We are flexible as much depends on the weather, personal preferences, what presents itself and how things develop. We will pack in as much painting, tuition, relaxation and sight seeing as possible! Courses are tailored to the needs of the group but generally we will work in acrylic and watercolour with some waterbased mixed media and subject matter is with reference to the location itself with its sea cliffs, beaches, forests, creeks, people and buildings.
Tuition is from 10 till 4 each day but with 2 half days. We like to discuss course expectations and working preferences in advance and get to know something of where you are with your artwork by email if possible.

First Saturday Arrival 5 pm at Ti Breizh or Ti Guenole, Kerzellec, Le Pouldu. Settling in. Meeting everyone, dinner in the evening at 7.30 at Restaurant au Port, Le Pouldu.

Sunday 10.00 am Course introduction at Ti Breizh, Kerzellec and talk on Gauguin. Cliff walk to some of the places Gauguin painted from (walking distance from the house). Making sketches, taking photographs. Afternoon working from sketches at the house, or on location.


Monday, Wednesday and Thursday There will be one or 2 half days of clothed figure drawing with Brigitte (traditional Breton singer and lady of the big hats!), Breton dance teacher Regine or our assistant Val as models, a still life in watercolour, with flowers, fruits and objects using Janis's special 'revealing technique' and a visit to the Gauguin museum in Le Pouldu. Time will be spent drawing and painting on location along the cliffs at places Gauguin painted, Doelan and perhaps St Maurice monastery and at the house, putting work together imaginatively. Emphasis will be put on assisting and developing student's individual painting style as well as conveying some insight and understanding into Gauguin's response to Le Pouldu and the way his work developed there. I am first and foremost a colourist and hope to deepen your way of seeing colour. I will also help you with drawing, composition, meaning and technique. The house where we are normally based, is the old Ciderie that Gauguin painted, which is across the road from Ti Breizh where we will stay this time. The road it is on is the one Gauguin walked. Exact days for doing things, will depend largely on the weather, which, from June to September, is mostly warm, sunny and mellow, with a perfect temperature sea for swimming but can sometimes be dull or even rainy. Hopefully though, the blue atmosphere and special light of Le Pouldu will be with us most of the time.

Tuesday morning Moelan market and supermarket. Afternoon painting at Doelon or St. Maurice or possible trip to Pont Aven.

Friday morning Quimperle market, lunch at the traditional creperie, Ty-Billig. Back to the house to finish off work, discuss and assess course work and pack up.

Last Saturday Early breakfast and depart by 10am.
Accommodation:
The course takes place at either Ti Guenole or Ti Breizh, large Breton
houses in the ancient village of Kerzellec at Le Pouldu.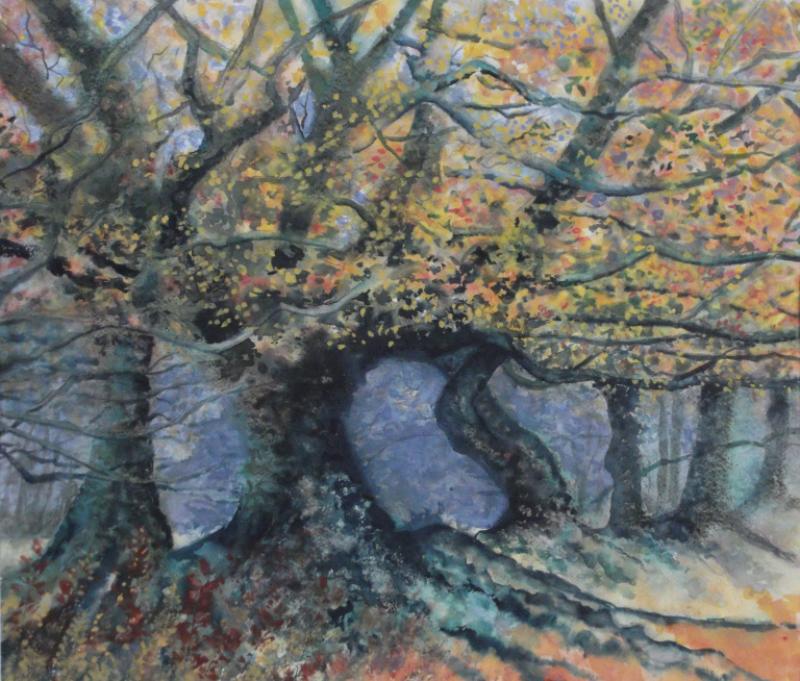 Janis Fry