Harris & Lewis
18.09.2021 - 24.09.2021 Western Scotland |

Colin Prior basics, informal, landscape, light, nightlife 2199 GBP
Harris is a place of dramatic contrasts: on the west coast, white sands stretch for miles backed by mountains, dunes and machair, while the east coast is an intricate series of bays and headlands pocked with rock and loch with small hamlets clustered in inlets that look like miniature fjords. There are sudden moments when you have to pull over to stop and stare – perhaps a series of rainbows scattered over the green-gold moor after heavy rain, or the setting sun reflected in hundreds of small lochs, or the beauty of the creamy white waterlilies that dot the peaty water in June. The wild, rugged emptiness of the place has a way of capturing you unawares. The Harris Hotel in Tarbet is perfectly situated for access to the shell sand beaches of Seilebost and Scarasta where there will be opportunities to photograph at sunrise and sunset. We will spend a day in Lewis at the spectacular Mangersta sea stacks and visit famous and most enigmatic standing stones of Callanish, Scotland's equivalent of Stonehenge. Our base at Harris Hotel in Tarbet is ideally situated for easy access to the white sandy beaches and headlands of Harris and Lewis. Throughout the workshop there will be opportunities to shoot at dusk and dawn with sunset offering the greatest opportunities. Tutorials, individual feedback and a group critique are all included in the itinerary.
TRIP HIGHLIGHTS
Spend seven days on location with Colin Prior
Enjoy access to some of the most varied and dramatic locations in Scotland
Six nights, single occupancy accommodation at the Harris Hotel
Breakfast, three course dinner and packed lunch
Transport to and from Inverness Station
Tutorials and critique session with individual feedback
Itinary:
The itinerary may be subject to change to suit weather conditions on the day.

Day 1 – Pickup and Tarbet
Colin will meet you underneath the main display board in the arrival hall at Inverness Railway Station at 0800 on Saturday morning. On the final day of the workshop, we will return to Inverness Railway Station at 1800. After the group has met, we will drive to Ullapool and board the ferry to Stornoway which departs at 1030 and arrives in Stornoway at 1300. We will continue our journey to the Harris Hotel in Tarbet where we will check in and head out to our first location.
Day 2 – Luskentyre and Traigh Rosamol
An early morning rise to capture the sunrise at Traigh Rosamol where views across white coral sands and dunes are backed by the mountains of Harris. We will return for breakfast, after which we will head back out to explore more of Harris's extensive beaches.
Day 3 – Huishnish and Traigh Mheilein
The journey west past Amhuinnsuidhe Castle takes us to the road end at Huishnish. From here we will follow a coastal path up and over to the remote beach of Traigh Mheilein which, to my mind, is the most beautiful and secluded beach in Harris. To the east, Loch Cravadale is set against a mountainous backdrop where golden and white-tailed eagles can be seen.
Day 4 – The Golden Road and Traigh Scarasta
An early start for sunrise where marram dunes give elevated views over the shell sand beaches. After breakfast, we will follow the Golden Road, south-east, through Manish to Rodel. The indented coastline features several sheltered harbours and wild headlands. Our return takes us to Traigh Scarasta, where big Atlantic swells break on the beach in clouds of white spume – in passing showers, the landscape often mutates in a palette of pastel colours.
Day 5 – Mangersta and Callanish Stones
After breakfast, we will head north and then west to explore the rocky coastline of Lewis. Rising like shark's teeth, an impressive group of sea stacks rise from a secluded bay close to Mangersta and are backed by tall cliffs and sea caves. Both white-tailed and golden eagles are residents of the area. On our return, we will visit the Callanish Stones which date back to 3000bc and were once part of a megalithic complex associated with celestial observations.
Day 6 – Traigh Nisabost, Traigh Scarasta
An early morning rise to the beach at Nisabost, followed by breakfast, and then a final chance to photograph the shell sand beaches at Scarasta. Later in the afternoon, we will enjoy a group critique session back at the hotel.
Day 7 – Stornoway – Ullapool – Inverness
After checking out, we will drive to Stornoway where you will have a couple of hours before boarding the ferry to Ullapool. We will arrive at 1630 and reach Inverness around 1800 where the workshop will conclude.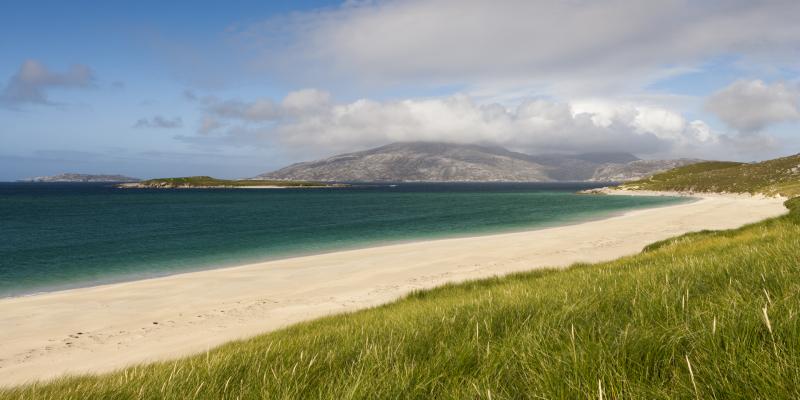 Colin Prior