Live online workshop: A quick sketch of Venice (Warm up)
13.03.2022 Berlin |

Ian Fennelly urban, sketching, painting 19 EUR
This quick sketching workshop on beautiful Venice is meant to be as a short warm up workshop for those who like to get to know more about composition, shapes, lines and how these shapes and lines can come into play.
We will start off by seeing the initial composition of the subject in terms of big shapes, blocks, and lines. Then we will observe and record the next level of detail – what goes inside these shapes – noticing the roofs, windows, street signs and doorways. During this quick workshop we will not talk about applying colours and just focus on the drawing process of a sketch.
You can join this workshop independently from the second (longer) workshop later the day. Each workshops will use a different image of Venice.
But if you join both workshops you will have the chance to use your sketches from both workshops when it comes to the colour part in the longer workshop.
Please note: The course pictures of this course do not show the scene you are going to sketch in this workshop! Ian will choose a different image of Venice.
Target group: (all levels) This online course is meant to be for beginners as well as for advanced learners.
Course in detail:
The quick sketching session will start at 11:00 am (German time) and last till 12:00am (German time) During this 1-h warm up workshop you'll be taken through Ian's first steps of creating a sketch live and step by step for one hour. Throughout the session you are always invited to talk to Ian about whatever questions you might have
BOOK THIS WORKSHOP HERE: (Paypal, Credit Card or Bank Transfer)
https://www.artistravel.eu/mal...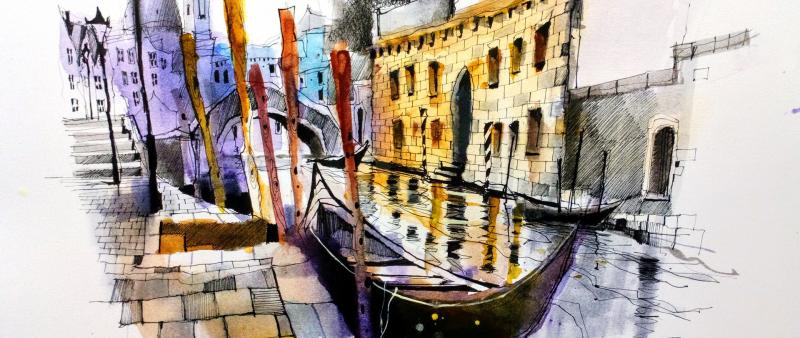 Ian Fennelly