Colouring the Landscape
04.05.2022 - 11.05.2022 South West France |

Jo Perkins mixed media, acrylics 1050 GBP
Explore colour and pattern as a way to create joyful semi-abstract landscapes.
Compositions are created from life then translated to canvas or wooden panel in an expressive and intuitive way. Jo uses acrylic for its immediacy and versatility and mix this with other media to enhance each piece.

Please note the itinerary is just a guide and may be changed depending on the weather and after discussion with your tutor There is plenty of free time to swim or sunbathe by the pool, walk to the village (just 10 minutes away) and enjoy your surroundings. Non painting partners are welcome and will be able to join us on excursions and visits.
Day1 Arrival and transfers from Toulouse Blagnac airport, introductions and tour of the accommodation and all important studio followed by welcome aperos on the shady terrace, introductions and a 3 course meal with wine in the conservatory or terrace (according to weather)
Day 2 A morning in the studio with Jo, Lunch on the terrace and back to the studio or gardens to continue. 5pm winetasting and tour of Chateau Monluc and back to La Salle for a 3 course meal.
Day 3 Breakfast followed by an inspiring visit to the UNESCO world heritage site at La Romieu, opportunity to paint or sketch and take references for future projects. Picnic lunch in the gardens of Coursiana followed by an afternoon of painting tuition with Jo back in the studio or 'en plein air'. Aperos and Evening meal on the terrace at La Salle.
Day 4 Breakfast followed by instruction with Jo in the studio or gardens at La Salle in the morning and afternoon (depending on weather) Lunch will be taken on the terrace. 4pm A visit to the Abbaye de Flaran, a 13th Century Cistercian building which hosts the 'Simonov exhibition' a collection of 20th Century art includes works by world renowned artists including Monet, Picasso, Toulouse Lautrec, Modigliano and others. A 3 course meal with wine on the terrace
Day 5 Breakfast followed by a visit to the local May day fete or 'vide grenier' opportunity to find a vintage gift or keepsake or just sit with a coffee, sketch and watch the world go by. Lunch and back to the studio with Jo. Aperos at 6pm and evening meal on the terrace with wine.
Day 6 Breakfast and a visit to one of the nearby listed 'plus beau village de France' to paint 'en plein air' Picnic lunch. An afternoon of painting 'en plein air' or studio painting.
Day 7 Breakfast and finishing off work. Lunch on the terrace and a free afternoon to top up your tan, finish that book or just relax. Aperos at 6pm on the terrace and a review of the week's acheivements with your tutor. An Evening out to 'Chez Vous' our local restaurant.
Day 8 Breakfast and 'au revoirs' and transfer to Toulouse Blagnac airport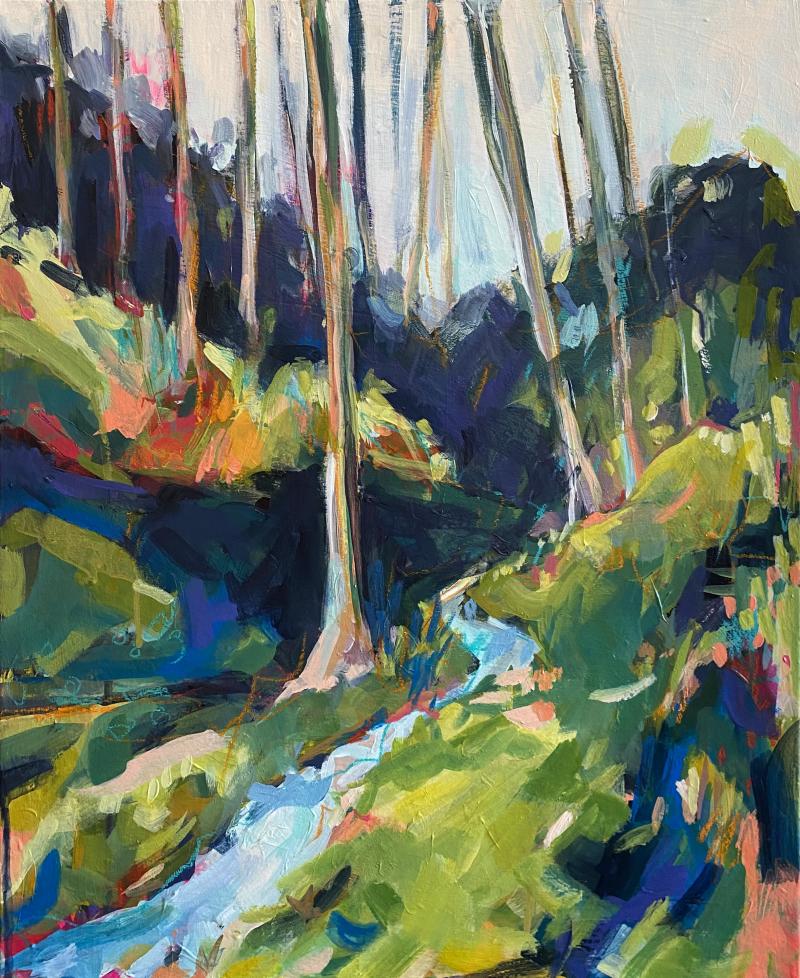 Jo Perkins