Abstract Acrylic Painting in beautiful Umbria
25.06.2022 - 01.07.2022 Umbria |

Arnhild Kart painting 2200 EUR
​Acrylic painting, a course that teaches techniques and just so leads to free experimental work. Even if a horizontal line divides a picture surface without a preliminary drawing, the viewer almost always immediately associates it with the horizon of a landscape.
With acrylic paints we work on colour surfaces that become landscape paintings / cityscapes. Mixing the basic colours on the palette or also directly on the canvas, or first on paper, is just as much a topic as the liberating painting technique. The instructor supports you in overcoming your own claim to reality and surrendering more and more to the painterly
process and the colour. With a broad brush or palette knife, mood and geometry, as well as light and shadow are captured. Here the art of omission is called for in order to direct the view to the essential.The properties of acrylic allow for the most interesting combinations and
also interplay in the mixed technique. In this course we will work with classical acrylic colours as well as with ink, charcoal, pastels or oil
crayons. This offers great opportunities for experimentation and a wide range of artistic demands.
This course is aimed at everyone, from beginners to advanced artists.
Accommodation:
Enjoy your art retreat with us in an astonishing 1000 years old Castle in beautiful Umbria!
The castle is located in Umbria which is also called the green heart of Italy. Umbria can be dated back to the Etruscans, Romans, the Middle Ages and a part of renaissance crodle. Today it is a beautiful area to enjoy the magnificent nature and spirituality at this extraordinary heritage of art and culture.
It is the ideal place to rest and get inspiration to create. Giomici's castle will be your accommodation and place for your workshop.
It is designed for all levels, beginners or experienced artists. The goal is to help you move your artwork forward, and deepen your creative self and it's ability to be expressed. You will also have the opportunity to experience the local culture, and soak up the nurturing lifestyle and delicious cuisine of Umbria .
A CERTIFICATE of achievement will be given to the classes participants.
This retreat is organised by our dear friends Schola Artis Provobis - Assisi that's why THEIR terms and conditions apply for this course.

Organiser of the course: https://www.provobisassisi.com...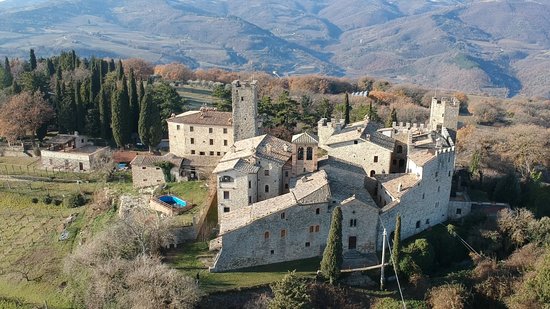 Photo: Schola Artis ProVobis