Watercolour Course in Tuscany
08.10.2022 - 15.10.2022 Tuscany |

Grahame Booth painting, watercolor, watercolour, landscape 1995 GBP
Because he clearly remembers the problems of learning to master watercolours, Graham is a particularly sympathetic tutor, Painting en plein air, he will show you how to translate the landscape into watercolours full of light, excitement and impact. One previous student said: "Grahame can teach people of all levels and everyone learns and improves. Most importantly it's always fun."
Grahame Booth paints only in watercolour and his success is reflected in the numerous awards he has won over many years. His YouTube channel has become quite popular over the years! Grahame only started to paint some 30 years ago.
The Watermill is a complex of elegant and historic Tuscan buildings, surrounding a sunny courtyard with an adjoining vine verandah, rose pergola and sun-filled walled garden. More gardens lead to walks along the river and the sun-dappled millstream. We are surrounded by two environmentally protected areas: the National Park of the Tuscan-Emilian Apennines and the Regional Park of the Apuan Alps. The air and the water are pure and unpolluted, and the area abounds in wildlife. It is all yours to explore.
We are increasingly environmentally aware and we have now incorporated an array of photovoltaic panels in our south-facing roof structures, to generate 'green' electricity. We have already produced some 30,000 kWh of electricity and saved more than 20 tonnes of CO2 emissions. We have installed air-conditioning units to cool/heat all our bedrooms and public rooms including the communal dining room, communal sitting-room and the studio, using the 'green' electricity generated by our photovoltaic panels.
As part of our war on plastic, we loan our guests individual stainless-steel vacuum flasks for the week, instead of using individual plastic water bottles. The vacuum flasks (which are sterilised at the end of each course) can be filled with filtered water from our new water-dispensing machine in the Communal Kitchen. You can have water at ambient temperature, chilled still water or chilled fizzy water! There is an ice-making machine too, if you like your water even colder (and for your evening cocktails and gins and tonics!)
We have tried to be environmentally conscious in our restoration building projects, too, seeking where possible to incorporate modern energy-saving details, from insulated roofs to double-glazed windows.
Deposit and balance
A deposit of £250 per person is required to confirm your booking.
The balance for your holiday is due eight weeks before arrival.
Please note our cancellation conditions set out below. (We recommend that you take out normal holiday insurance, including cancellation insurance.)
How to make your payment
We ask you to make your payment by direct bank transfer and we will give you our bank details for you to make this transaction.
If you are paying from outside the UK you might like to use Transferwise. In our regular transactions within Europe, to the USA and Australia, this company has transferred our money efficiently and speedily, and we have enjoyed excellent exchange rates and paid very low fees. Our guests say: ""Wow! What a great way to send money inexpensively." "I'm amazed and impressed with how speedy it all happened." "Totally impressed!" Just ask us for the link.
If you prefer to pay by credit card via PayPal, we can send you an invoice, with a link for you to make a secure payment. You will find, however, that your exchange rate is less favourable (you will spend more in your own currency for the same amount in GBP) and, in addition, we charge an extra 3.5% on your payment as a contribution to the card transaction fees incurred at our end.
Cancellations
The deposit is non-returnable, unless you cancel within 14 days of the booking.
If the course has to be postponed because of official restrictions due to the coronavirus pandemic, the deposit may be transferred to a course with the same tutor at a later date, or to another tutor of your choice.
If you have to cancel four to eight weeks before departure, a charge of 40% of the total price is payable; at two to four weeks, 60%; at one to two weeks, 80%; at less than one week, 90%. Once the course has started, 100% is payable.
We reserve the right to cancel any course at two months' notice and, where possible, provide you with an alternative.
Getting there
The best airport to arrive at is Pisa, which has many daily flights to and from international destinations. You might also care to fly into Florence and spend a few days there. There is a regular train service from Florence Santa Maria Novella station to Pisa Centrale, where there is a shuttle train which takes only a few minutes to arrive at Pisa Aeroporto, where we pick our guests up on the morning of the first Saturday of their holiday week.
We recommend that you do not book your flights until we have told you that sufficient numbers have enrolled on a course to make it viable, and that it will definitely run. We will let you know this at the earliest opportunity, (many months before the start of the course) to help you get the best deals on flights online or through your local travel agent. When booking your flights, please note our complimentary pick-up and drop-off times below. And don't forget to take out travel insurance.
We pick you up at Pisa airport on the first day between 10 am and 1 pm. Our departure times from Posara on the last Saturday are after breakfast, usually between 8.30 am and 9.30 am. (It takes between an hour-and-a-quarter and an hour-and-a-half to get to Pisa airport.) If you arrive or leave outside these times we can arrange transportation for you but you will have to pay for it.
You may decide to come by car. You can park at the mill and we'll give you full instructions on how to get here.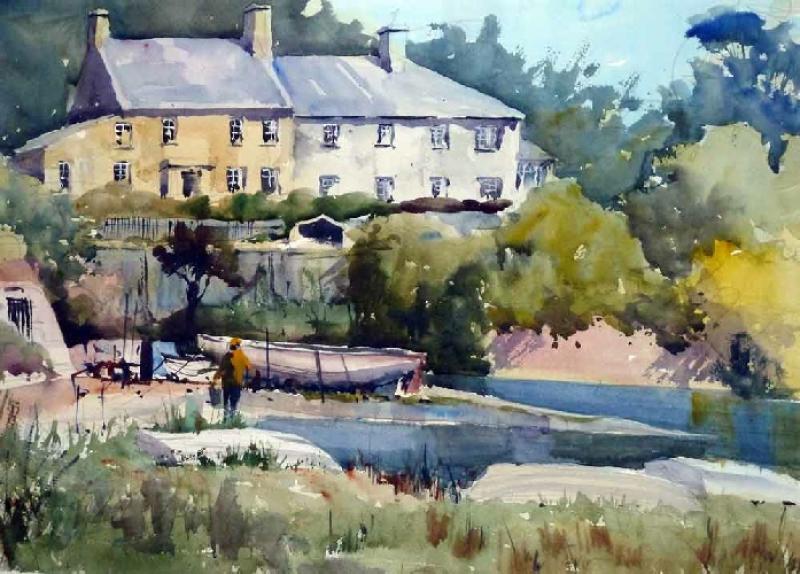 Grahame Booth