Painting Holiday in Europe's Picturesque Portugal
03.06.2023 - 09.06.2023 Algarve |

Tracy-Jane Pooler painting, landscape, drawing, charcoal, watercolour, acrylics 947 EUR
Listed in Simon Heptinstall's 10 Best Art Escapes in 2019 for the Mail Online, this riverside location is perfect for plein air painting and exploring the Algarve countryside when searching for paint holidays in Europe. Wake-up every morning to Algarve blue skies and an undisturbed and tranquil location with unbeatable sunsets and spectacular views to inspire your creativity and develop your drawing and painting skills in a wide variety of media.
Our Shropshire experienced, fully qualified Art Tutor, a member of Algarve Society of Artists and a Professional Member of the S.A.A., now resident in the Algarve, has a passion for sharing her knowledge and skills through tutorials and demonstrations and has her own step by step lessons in the series "Pick up a Paintbrush", a regular feature in the quarterly online Algarve Artist magazine.
Tracy-Jane is full of enthusiasm and passion and it is reflected in her vibrant and colorful art work.
Southern Portugal Is The Perfect Place To Spend 6 Nights And 7 Days
This art and walking holiday offers an opportunity to improve your artistic skills and enjoy the positive healing affects of nature. Immerse yourself here in blissful tranquility and timelessness, a secluded location, with breathtaking views and stunning sunsets. This serene setting will allow you to fully relax, improve your mood and allow your creative juices take over. During your stay, you will enjoy daily art lessons on the waterfront deck under the mature carob trees with accompanying bird song. The surrounding countryside and views of the river will make you feel as though you have discovered a secret oasis and you won't be at a loss when choosing your landscape art scenes. The clean, country air and beautiful views of the river and countryside can be best enjoyed during picturesque, easy going walks where you will discover the lovely cistus rockrose, thought to be magical and therapeutic and Portugal's national tree, cork oak, showing their bright orange-brown coloured trunks when stripped for cork.
10 Reasons To Join
Develop self confidence within your own artistic practice in a beautiful relaxed waterside location.
Learn new techniques and approaches through preparatory drawing.
Experiment with different materials while loosening up your creative practice.
Gain an understanding of the importance of contrasts.
Learn how perspective affects landscape painting.
Let the artistic journey dictate your finished results without pressure or force.
Immerse yourself here in blissful tranquillity and timelessness, a secluded location, with breath-taking views and stunning sunsets.
An opportunity to improve painting landscape reflections as seen on the river Funcho filled with sunset or sunrise colours.
Groups are kept small to ensure individual attention for all levels and abilities.
Non-painting partners are welcome as there are plenty non-painting activities on location and nearby.
Spectacular Accommodations. Await You
Just a 35-minute drive from Faro Airport into the Algarve's peaceful countryside, The River House features: 5 Double spacious, airy and fully air-conditioned bedrooms, some with TVs. All bedrooms are twin/doubles; 2 are ensuite, and 3 rooms share a gorgeous family bathroom with a shower and double sink basins. Hairdryers in all bathrooms. Comfortable rooms, stylishly decorated maintaining many traditional of wood beams & skylights in the upstairs rooms and the downstairs room have french doors leading onto the garden. Light and airy social spaces, a high-ceiling lounge and kitchen fitted with a centre island and a cherry wood dining table. All meals are provided but the space allows you to keep snacks handy. Weekly clean up and linen service is included, mid-stay clean and bath towel change. Weekly swimming pool towels provided. Free internet connection is available. Spacious deck area with terraces offering warm sun, a cool canopy, and natural shade, all with stunning views of the countryside and breathtaking sunsets. Your meals will be enjoyed with the group on an outdoor river facing deck under the carob trees (weather permitting). An infinity pool with jaw-dropping views of the Funcho dam and river area. Reading books, board games and a large selection of DVD's are available for the enjoyment of our guests.
Delicious Delights Will Dazzle You
You will feast on a varied menu of raw, local seasonal produce and fresh juices, exploring what feels good and tastes great. Our menu includes tasty homemade cakes and treats too!
We will be lovingly preparing a variety of wholesome vegetarian dishes, to include a couple of fish options, in our riverside farmhouse kitchen using fresh produce from our local village market. All meals are seasoned with the Algarve Portugal sea salt, Flor de Sal, known as the white gold of the Algarve that is manually harvested from clean Atlantic water.
You will enjoy a variety of healthy breakfast options under the carob trees. Breakfast options include fresh fruit, my home made granola, freshly baked muffins, gluten free buckwheat pancakes, banana oat porridge served with local Algarve lavender honey and freshly squeezed juices and smoothies.
Art and Walking
There's plenty of space to either join in the everyday activities and socialising, or you can simply opt out and enjoy the magical ambience in a space of your own. The River House provides plenty of relaxation spaces in the sunshine, shelter and natural shade. Tailor made walking tours are optionally available.
Art Itinerary
The itinerary is for guidance only and is subject to change depending on the group's needs and wishes but is typically as follows:
Day 2 Art Theme – Natural Inspiration (Half Day)
Relaxed introduction morning at Figs on the Funcho learning how to use different shapes, textures and form from the nature. Using various drawing techniques and materials including graphite, charcoal and pen where you can ease into your art holiday learning new tips and tricks or a good refresher for the more experienced. Also a great way to get to know each other and discuss our art interests.
Day 3 Art Theme – When colour runs riot (Half Day)
A day letting vibrant colours and bold imagery inspired from many different sources comes together to create powerful abstract art. This will be a creative day exploring different colour and how it makes us feel. Chance to try out different art materials like watercolour, acrylics or chalk. All that is required is an open mind willing to explore.
Day 4 Art Theme – En Plein Air Painting Landscape (Full Day)
En plein air painting is the French expression for "in the open air" and we will be outdoors using the stunning location of Figs on the Funcho as inspiration for creating some plein air landscape painting. The morning will be used to work together and discuss how to select your landscape, then compose a painting or drawing while on location. After lunch, we will continue with the landscapes back at base where we can tune the fine details with guidance to create some impressive works of art. The hardest part of this day will be which view to choose, so maybe bring a camera. Material choice is totally up to you, but maybe try something loose and see where the inspiration leads you.
Day 5 Art Theme – Ink and Mixed Media (Half Day)
A session on the joys of using ink in various ways to create interesting art works. A morning of play and experimentation where we will show you how versatile this medium can be, not to mention the possibilities when other mediums are used. From the application of ink from a pen for sketching, to brush work and the introduction of bleach and other unusual things.
Day 6 Art Theme – Suggestive Animals (Half Day)
Have you ever tried to draw an animal but felt it wasn't quite right? Have you attempted to draw furry coat but it ended up looking flat? Well this tips and tricks session on all things animal will help you master simple shapes into various species followed by the techniques needed to make fur and feather come alive. From the smallest mouse, to the biggest elephant, anything goes in this session.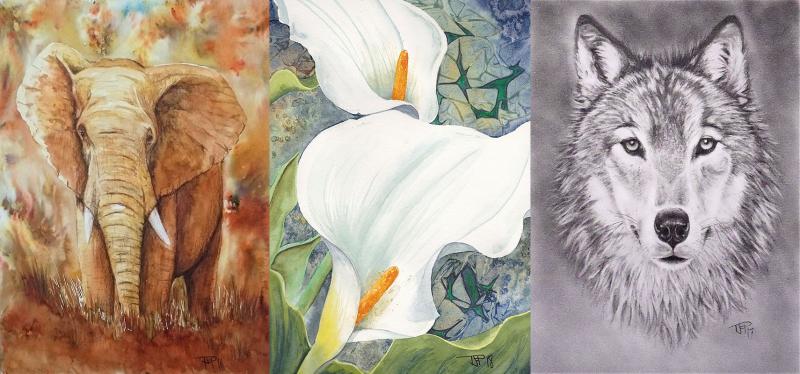 Tracy-Jane Pooler