Painting Holiday in the Palace of Antonin
12.06.2023 - 17.06.2023 Antonin |

Katarzyna Popinska painting, oil 950 EUR
This is the perfect location for painting amongst beautiful surroundings of unspoilt
lakes and forests.
The Palace Myśliwski Radziwiłłów (formally a hunting palace) in Antonin, built in
1824, is a magical place surrounded by an English garden, unspoilt forests and
lakes. At the Palace time passes slowly, walks along the alleys of the Palace's
English Park - among the little bridges over the stream and the abundant flora - take
one far from day-to-day reality. The Palace and its surroundings are beautiful in each
season of the year. The historical character of the palatial interior enables one to feel
the particular atmosphere prevailing in the former seat of Prince Anthony Radziwill,
who belonged to one of the largest and richest royal families in Europe. The decor,
the music of Chopin and the artistry of the palace chef ensure a feast for the body as
well as the soul.
The Palace is famous for one of its past guests, Frederic Chopin. During his visits
here, in the years 1826-1829, Chopin played, gave lessons to the little Princess
Wanda Radziwill, conducted academic disputes with his host on the complexities of
the art of the composer and composed. Chopin himself also wrote of his stay at the
Palace in Antonin in a letter to a friend: "I was there for a week. You would not
believe how well I am treated by him. I returned by the last post, and only just
managed to decline a longer stay."
The Palace now conducts cultural activities in the Palace itself and in the beautiful
surroundings. The Centre undertakes the organisation of concerts and musical
festivals at the highest level, of which the most important is the "Chopin in Autumn
Colours International Festival". Many concerts take place by famous pianists from
around the world. During the painting holiday a Chopin concert will be held one
evening by a local pianist, it will be truly a memorable event.
The beautiful rooms in the Palace feature classic, stylish hardwood furniture. All
include a desk, wardrobe and a private bathroom with a shower.
The Palace in Antonin has a very large common fireplace room and a club. There
also is a restaurant which offers traditional high quality Polish dishes in the setting of
a historic hunting residence.
The palace is unique and there are only two of its kind in Europe.
Website http://www.palacantonin.pl
We will conduct our painting holiday either indoors or outdoors dependant on the
weather, lessons will be both in English and Polish. We shall meet during the day on
the Monday at the hotel in a restaurant so that all of us can meet up and have a drink
and meal together before we start our painting on Tuesday.
You will be free to choose what you would like to paint, whether it's a portrait,
landscape, natural objects or just plein-air in the beautiful surroundings.
This 5-night painting holiday has been designed to develop your oil painting and
drawing skills, whether you are a beginner or an established artist, with our well-
known artist, Katarzyna Popinska and her assistant so everyone has the personal
attention of 2 experienced artists during the week. We hope to give our artists a
relaxing and enjoyable holiday, while drawing and painting in a group in beautiful
surrounding either indoors or outdoors, and there will be plenty of time to enjoy the
special surroundings of the Palace, or to just relax and have a glass of wine and
enjoy the peace of the magnificent gardens.
Lessons will be from Monday to Friday from 10.00 to approx. 16.00 with a break, so
that you are free in the late afternoon and explore the many attractions in the
surrounding area. Midweek we shall take a break from the painting and take a
minibus to visit other palaces in the vicinity of Antonin and also visit a tomato
plantation.
On Friday evening there will be an exhibition of the paintings and Farwell drinks with
a 3 course Polish traditional meal. The painting holiday will finish on Saturday
morning.
An oil painting workshop is having fun in creating art, especially in the beautiful
surroundings of a historic Palace, it brings out the passion and talent of a person and
most important is that it is very enjoyable. You will also meet new people and share
your love for painting with each other. Together with the other participants you will
learn from each other. You will surprise yourself of the talent that many people have
and will learn how much joy painting can bring to you.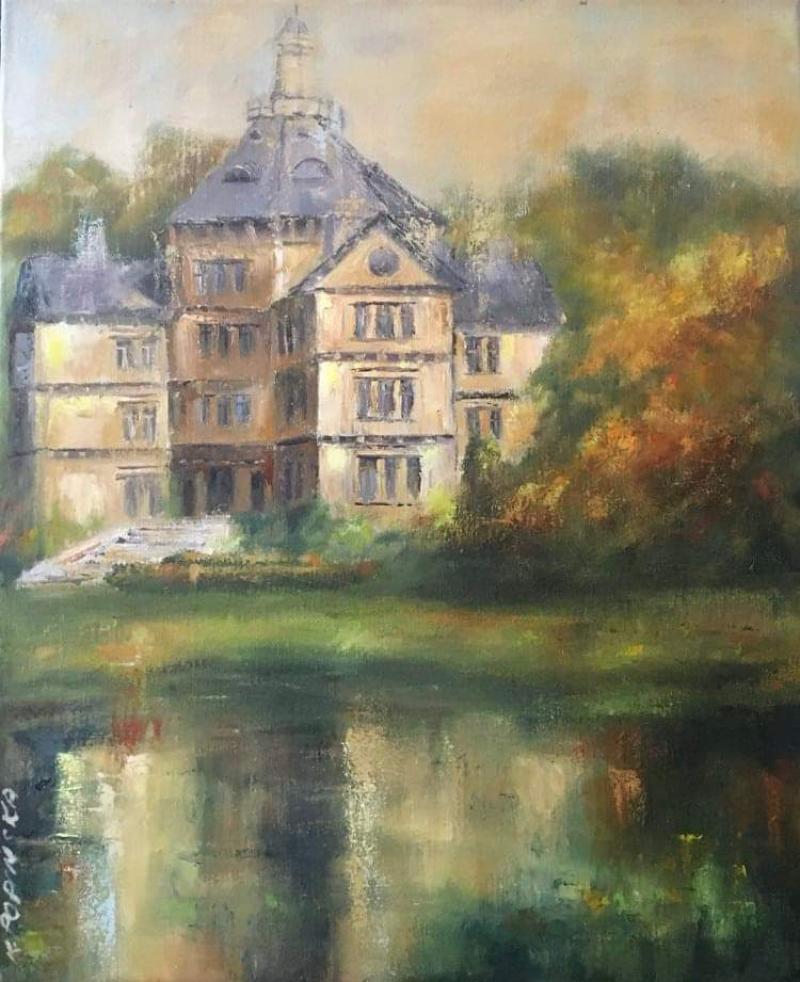 Katarzyna Popinska