Masterclass Macramé
19.08.2023 - 26.08.2023 South West France |

Anita van Overmeeren arts & crafts, macramé 700 EUR
Macramé: anyone can do it! 'There are always flowers for those who want to see them.' - Henri Matisse
Macramé is back and how! Macramé is the knotting technique with which modern, stylish interior objects are made. You will find incredible macramé wall hangings or elegant macramé curtains with only a limited number of knots. Of course it is possible to buy the stylish macramé items in a shop or online, but why not make them yourself? Just as beautiful but definitely more fun!
If you want to learn the technique, Anita will be the perfect teacher for you. She is a visual arts teacher with a passion for textiles. With her infectious enthusiasm she gets everyone to tie the knot! Have you been working with macramé for some time and do you want to finally make a large or complicated work in peace? Anita likes to think along with you about color, composition and use of technique.
The mornings are reserved for inspiring Macramé classes in open air or in the half open air studio, If you want to give your wall hanging a personal, natural look just take a stroll through our beautiful woodlands and search for bamboo or tree branches to start your macramé wall hanging with.
Of course you can use the afternoons to continue with your macramé art, but during a holiday week at Atelier Souriant, we offer you 3 special afternoon experiences in addition to the morning lessons: go on a walk in the beautiful nature around La Forêt Souriante, take a trip to a nice swimming spot at the river, a plus beaux village or an abbey or follow a yoga session in the garden and woodlands. The extra experiences are tailored as much as possible to the wishes of you and your fellow guests.
We look forward to meeting you!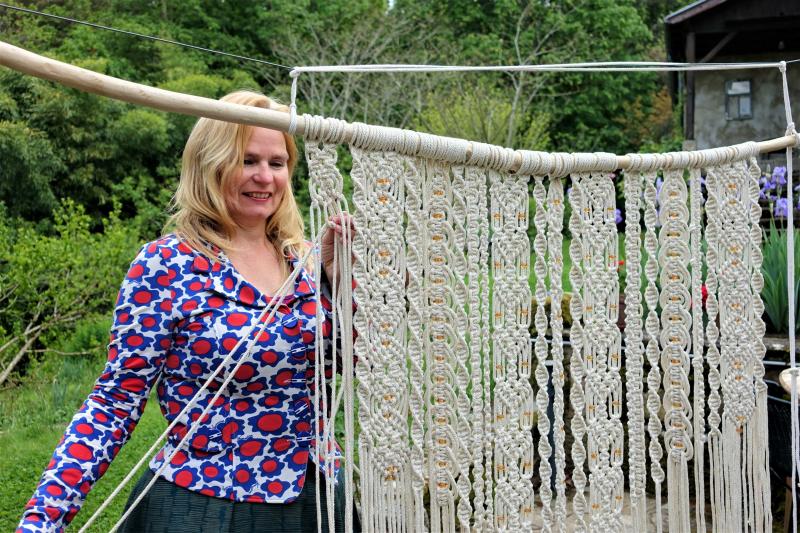 Anita van Overmeeren