The Art of Mandalas and Doodles
19.08.2023 - 26.08.2023 South West France |

Anita van Overmeeren painting, drawing 700 EUR
A gift to yourself - "A line is a dot that went for a walk' - Paul Klee
Making a mandala (Sanskrit for circle) is originally a meditation technique. While making a mandala you will experience peace, you will be in the here and now and you will feel openness and connection with nature. Nowadays, mandalas are no longer made exclusively for meditation. Mandalas can also be made as 'just' beautiful works of art. During this holiday week you can discover your own mandala style.
Doodling is a form of drawing that has many similarities with making mandalas. A wonderful activity, which, in addition to relaxation, can also yield many beautiful things.
Be amazed by the endless possibilities for designing and making mandalas and doodles. You can make mandalas and doodles on paper, on stone, on a tree slice or other materials.
Use ink, fineliner, pencil, pastel, ecoline or watercolor.
Discover the most beautiful places in the woodlands and garden of La Forêt Souriante and make your mandalas and doodles undisturbed in nature.
The group is small (minimum 4, maximum 8). During a holiday week at Atelier Souriant, we offer you 3 special afternoon experiences in addition to the morning lessons: go on a walk in the beautiful nature around La Forêt Souriante, take a trip to a nice swimming spot at the river, a plus beaux village or an abbey, follow a yoga session in the forest or make a stylish macramé home decoration. The extra experiences are tailored as much as possible to the wishes of you and your fellow guests.
It will be a week of total relaxation with inspiring morning lessons in mandala and doodle techniques, delicious vegetarian meals, special extra activities, tranquility, space and comfort for everyone. This holiday week can be your gift to yourself or your gift to each other.
We look forward to meeting you!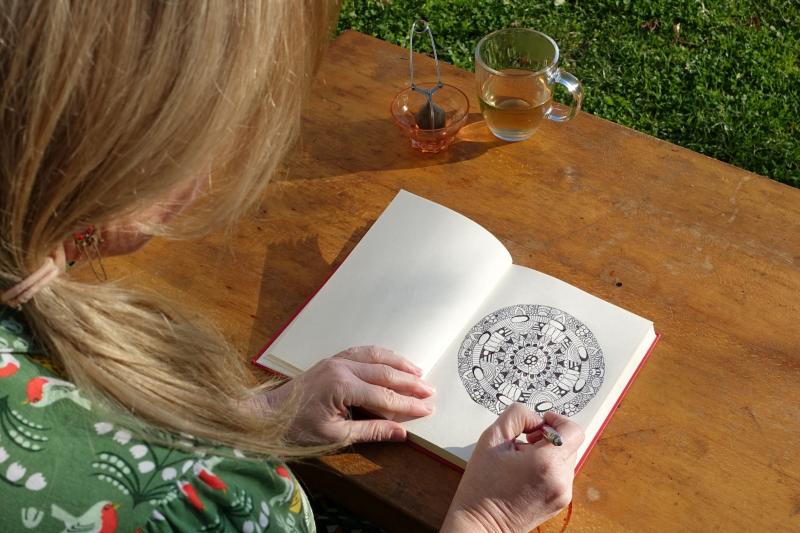 Anita van Overmeeren