Capture the Spirit of Thessalian Horses
15.09.2023 - 22.09.2023 Pelion |

Anna Martin plein air, watercolor, acrylics 945 EUR
At the foothills of mount Pelion lies the coastal village of Kalamos between the olive groves. Here is a herd of six horses that live a close-to-natural life, which means they have been able to retain several of their primal qualities. This small herd has been together all their lives, and each is greatly respected and valued for the individuals they are, which enables them to express themselves freely. On your painting holiday in Greece, you will be hosted by Caroline Pluvier who enjoys sharing her unique environment and relationship with her horses. You will be based at quaint and comfortable privately owned maisonettes and apartments close by the sea.
Each day of the painting holiday Caroline will set the scene with a meditation close to the horses, as a way of relaxing into the atmosphere of the herd and nurturing and inspiring your creativity. You will then observe the horses in their natural playing ground under the olive groves, in the hills or on the beach so you can capture these majestic creatures in their true essence.
Professional artist and tutor, Anna Martin, will guide you each day with her demos and techniques whilst offering one on one guidance and help to harnessing your own style. As the week progresses you will emerge with a series of drawings and paintings in watercolour or acrylic describing the essence of these free-spirited horses whilst developing your own style and confidence in the progress. Some of the afternoons will be based at a local studio to further develop our sketches into paintings. In the evenings we will dine in specially selected local tavernas and enjoy the local Greek hospitality.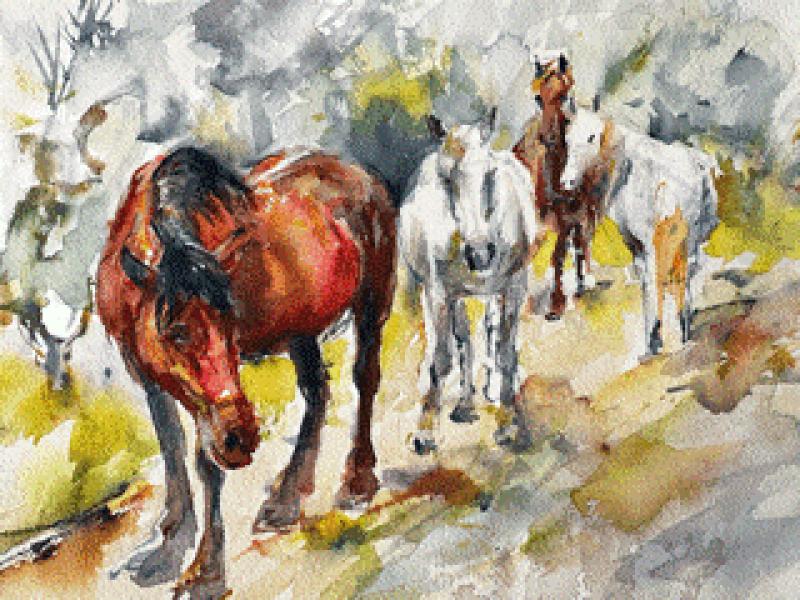 Anna Martin