Pelion Mansions, Shady Corners and Azure Seas
23.09.2023 - 30.09.2023 Pelion |

Anna Martin painting, plein air, watercolor 1262 EUR
Capture a sense of place in authentic Greece!
Anna will guide you to reveal the character of Lafkos, a beautiful and laid back traditional and listed medieval village, in your paintings. The aim is to capture a sense of place in a loose, playful style. Whilst addressing the rudiments of drawing and perspective, Anna will help you to focus on the main elements of a composition without getting too hung up on unnecessary detail. You will also paint by the sea.
Anna's demos show you how to 'capture the moment', using a vibrant colour palette and gestural brushwork. Anna also draws upon some of the techniques from her background in coaching and creativity to help you fully engage with your surroundings to help you reveal the essence of the area, in your painting. Her daily demonstrations and individual support throughout the week help you put the different techniques and painting tips into practice. Anna encourages a sense of play throughout the week, as well some rest and relax time, including at shared mealtime – she believes that this also an important part of the creative process. You can find out more about Anna Martin on her website https://www.annamartin.co.uk
Programme
Arrival / Saturday

Tutor sets up course teaching space run through schedule
Students arrive throughout the day and check-in - free to wander around the gardens
Meet & Greet, introductory talk from the tutor
Aims of the week and schedule shared
Welcome dinner



Day 1 / Sunday

Walk to Lafkos Village - Sketch and draw elements of the village
Tutor demo

Colour Theory, Colour mixing
Dinner at hotel

Day 2 / Monday

Visit boat harbour - Sketch and paint boats - reflections, colour washes
Tutor demo
Students continue own work based on morning's session
Dinner at hotel

Day 3 / Tuesday

Visit to local monastery - drawing and architecture
Tutor demo
Picnic on the spot
Tutor demo on sunset
Students to paint midsummer sunset

Day 4 / Wednesday

Session at the beach: Focus on a 'less is more' approach
Tutor demo
Students continue own work based on morning's session
Dinner at hotel

Day 5 / Thursday

Walk to Lafkos village: Focus on key characteristics, people, buildings, cafe scenes
Tutor demo
Lunch at local taverna
Optional still life session or continue work from morning session

Day 6 / Friday

Open session for completion of works for end of week exhibition
Show and tell session of each person's work over glass of wine before dinner
Farewell Dinner

Day 7 / Saturday

Departure of participants, or a rest over the weekend.
There is a possibility to continue using the studio, tools and materials unsupervised over the weekend for a small extra charge. Please ask if you would like to stay for extra nights and/or make sure of the studio space.
Courses in Pelion, Greece - Practical Information
✓ Courses will be held in a large (100 sq. m. and well ventilated) and necessary social distancing will be observed at all times – the hotel follows all safety protocols
✓ Lessons are with a fully experienced teacher, passionate about his/her subject and students
✓ All courses are suitable for beginners and intermediate participants
✓ We can arrange delivery of the work home if required but most students take them safely in their luggage
✓ Groups benefit from a quiet 'atelier' space with excellent light for their practical work
✓ Excursions are planned to suit the particular course.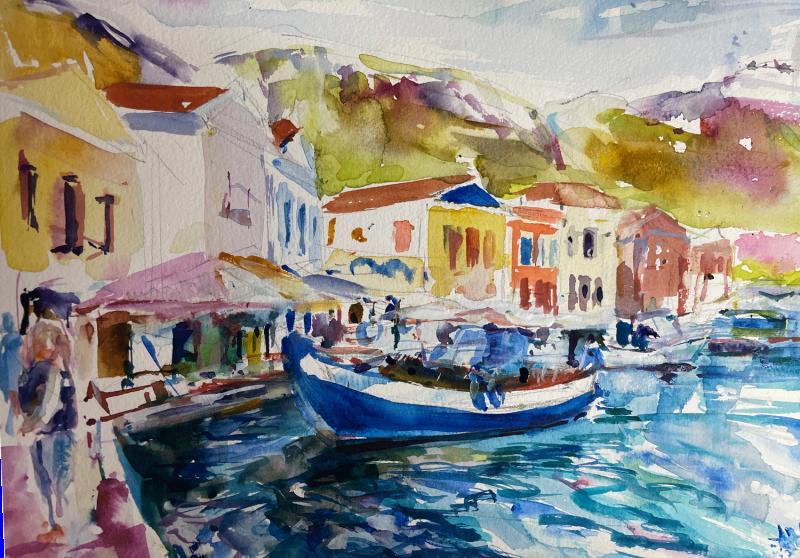 Anna Martin