Watercolour and Brusho techniques
07.09.2023 - 14.09.2023 South West France |

Nicki Saunders painting, watercolour 1100 GBP
We are so looking forward to welcoming artist Nicki, for another week of her fabulous and enthusiastic tuition in watercolour techniques.
This year, we are particularly excited to be able to include in the itinerary of a visit to the fabulous flower market in Fources which is held annually in Springtime.
SAMPLE ITINERARY FOR 7 NIGHT PAINTING HOLIDAY
Please note the itinerary may be subject to minor changes due to weather and/or after consultation with your tutor.
Day 1
Pick up at Toulouse Blagnac Airport, transfer to La Salle and settling in. A tour of the house, the all important studio, gardens and time for a well deserved apero by the pool with fellow guests before a relaxing 3 course dinner with wine on the terrace.

Day 2
Leisurely breakfast and into the studio for 9.30am for your first painting session with your tutor. Lunch at 1pm on the shady terrace and time to relax before your next painting session. Opportunity for some 'plein air sketching in the garden or lanes around La Salle.
5pm tour of and wine tasting at Chateau Monluc and time to explore the village, maybe take a few photos for reference.
Day 3
Breakfast and a day out to the local beautiful 'Jardins de Coursiana' or the magnificent water gardens of 'Latour Marliac' where Monet bought the water lilies for his famous gardens at Giverny. Lots of time to sketch, take reference photos and paint. We take a picnic lunch to make the most of this wonderful painting opportunity. Home in the afternoon and time to continue your painting or relax in the pool before a delicious dinner with wine.
Day 4
Breakfast and a visit to one of the very colourful local markets selling fresh local produce. A visit to the cathedral in the Place St Pierre, visit the chocolaterie or one of the lovely gift shops selling artisan products. There's time for a drink in one of the cafes before home for lunch to sample some of the fresh produce bought at the market. An afternoon of painting 'en plein air' or in the studio or garden (depending on the weather) Dinner at La Salle.
Day 5
A trip to the UNESCO World heritage site at La Romieu, a picnic lunch in the village and again some photo or sketching opportunities before returning home. An afternoon of painting with your tutor. Dinner at La Salle.
Day 6
Breakast and a day of painting in the studio, gardens or village. Lunch at La Salle before an afternoon of painting with your tutor, A BBQ in the evening at La Salle.
Day 7
Breakfast followed by painting time with your tutor and finishing off any work. Time to reflect on the week's acheivements. Lunch on the terrace and a late afternoon trip by canoe down the river Baise (optional subject to season) 7.30 pm 3 course dinner at a local restaurant.
Day 8
Breakfast and 'au revoirs'. Transfer to Toulouse Blagnac Airport.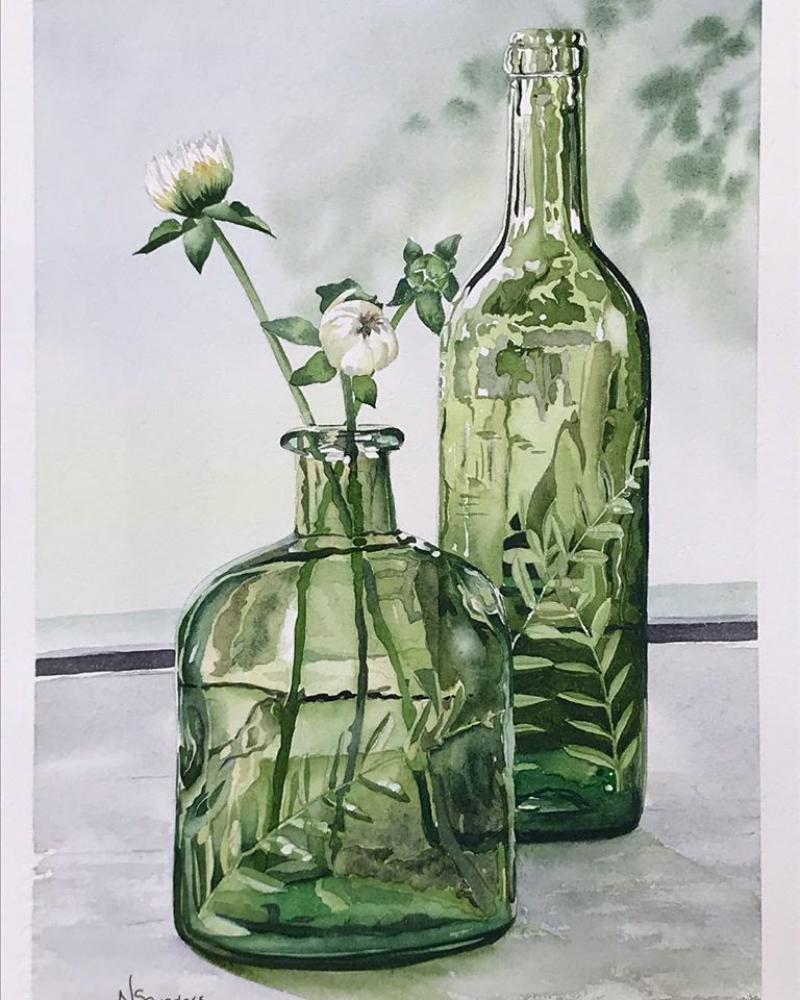 Nicki Saunders