Abstract Painting: Fashion Textiles Collage
28.10.2023 - 04.11.2023 Anna, Valencia |

Anke Carola Broeschen abstract, acrylics, collage, mixed media, painting 960 EUR
The FIESTADELARTE Workshops Abstract Painting and Painting Classes are aimed at all art interested people. Anke's experiences with artists and at the theater are an inspiring source of creativity. She also combines the learned philosophy of set design in the FIESTADELARTE art courses.​
Fashion Textiles Collage 1.- Basic Workshop Collage 'Stage Design'
What this course will offer:
In this 10-hours Abstract Painting Workshop you will learn the fundamental techniques of Collage Free Painting Stage Design on canvas.
Textiles and Fashion Material will be fixed on the canvas with glue. Material such as Textile, scraps of clothing, bonding agent, acrylic paint and ink. Will be utlised in my unique technique to bring collage and painting together on the canvas in this free painting art course. The textile material will be stuck on a canvas of circa 35 x 55 cm. Arcylic colours will then be painted on the canvas and textiles and spread out using a spatula.
The short time it takes for the collage to dry allows for you to break away from the norms and regulations.Abstract figures will now become visible to the exterior eye as well as the interior. A form of communication will take shape. The object will then be slowly encircled on the canvas using a base colour. Withshades of colour and their harmony you will learn to transform abstract shapes into figures and faces. Your imagination enters the foreground. The stuck-together textiles form their own movement.
The utilisation of acrylic colours rework and estrange the first impression of the painting and turn the object into a story. The objects on the canvas will then be connected using a line-technique.We will accompany you through thoughts, expressions and your individual vision.

Further accommodation possibilities:
Info about half board: Daily from 12:00 pm until 03:00 pm.
Our Kitchen Boss (Señora Mercedes from Cocinart) cooks fresh meals daily (from Tuesday to Sunday) in Anna, offering a wide selection of menus, including appetizers, main dishes, and desserts.
Monday is Salad Day in the Artist Studio after the Beach.
Breakfast will consist of a baguette or croissant with coffee or tea and local fruits.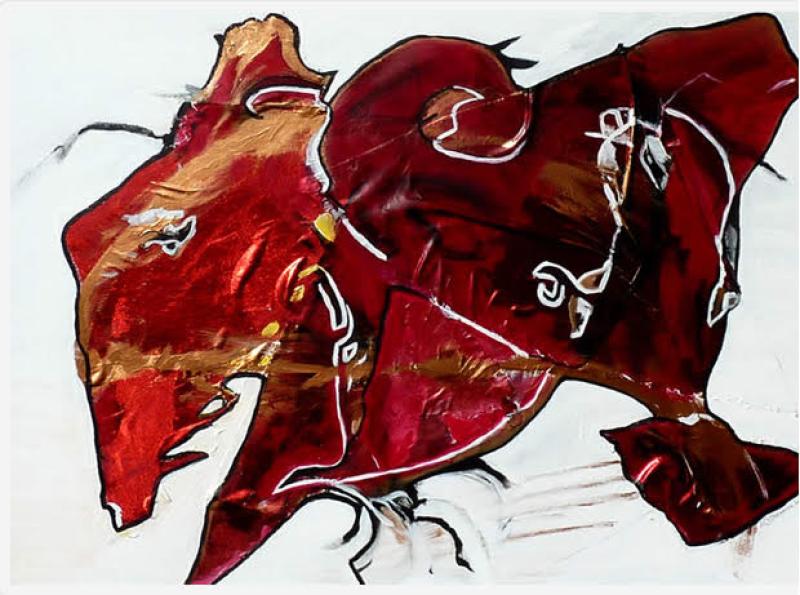 Anke Carola Broeschen