Mosaic Trancadis Workshop
01.10.2023 - 08.10.2023 Anna, Valencia |

Anke Carola Broeschen arts & crafts, mozaic 960 EUR
The FIESTADELARTE Workshop in Anna Valencia Mosaico Ceramic Workshop Trencadis Method Antonio Gaudí are aimed at all art interested people. Her experiences with artists and at the theater are an inspiring source of creativity.
Enjoy an individual holiday in Valencia with a lot of Culture and nature and time out on the Beach . Your acomodación is located in the Artist House in Anna Valencia. A terraced and Canal House in the old and traditional Village in Anna Valencia with Double bedroom and extra private living Room with televison and private refrigerator in their living area and extra second bed Sofa in the First Floor with courtyard and pool view and Bath en suite.
Just 40min distance to Valencia and Situated just a few kilometres from the city of Xátiva, there are many attractions to do in Anna Valencia in your week, especially for nature and hiking.
Anna is a small village in the province of Valencia where water is the protagonist. In its fountains, gorges, waterfalls and the small lake, this element is the primordial one and the one that has given life to the place throughout its history. In addition, the historic centre contains vestiges of the period of Arab domination, mainly present in the Palace of the Counts of Cervellón, also known as the little Alhambra.
The route of the three waterfalls is one of the must-see attractions in Anna and of course our Mosaic Basic Workshop Trencadis in the courtyard of the town canal House Fiestadelarte and the Artist Studio Broeschen.
Vintage Paella Pan:
You will utilise Gaudi's colourful shard technique and bring your own ideas to a decorative, vintage paella-pan, approx 27 cm. Learn how to arrange the pieces of tiles professionally and fix them. In the last step we will show you how to finish the design using cement and how to polish the tiles. (10-hours)
Look Forward to a varied art holiday week in Valencia Spain
Day : Arrival day and village walk in Anna
Day: 5 hours mosaic workshop in the artist studio and pool area terrace
Day: From 09.30h to 13.30h beach time in Playa Mareny Valencia with shuttle transfer through the rice fields
Day: Visit the little Alhambra of Anna and in the afternoon the 5 hours mosaic workshop
Day: 5 hours Sightseeingtour Valencia with culture and transfer and beach
Day: Hiking Tour 3km Anna The route of the three waterfalls in the morning and paella lunch time
Day: Departure and pack their mosaic paella pan for your traveling
Info about half board : Daily from 12.00h until 15.00h
Our Kitchen Boss (Señora Mercedes from Cocinart) cooks fresh daily (from Tuesday to Sunday) in Anna and a wide selection of menus Appetizer and Main dish as well as dessert.
Monday is Salat Day in the Artist Studio after the Beach
The Breakfast will be Baguette or croissant with Coffee or tea and local Fruits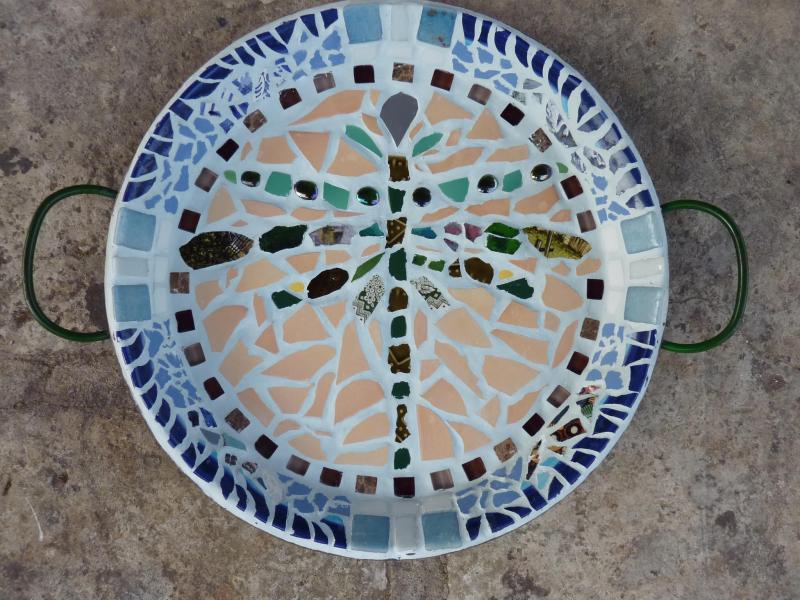 Anke Carola Broeschen