Watercolour weekend in Provence – Avignon!
07.10.2023 - 08.10.2023 Provence |

Annette Morris sketching, urban, watercolor, watercolour 230 EUR
Enjoy a wonderful weekend exploring the walled 'City of Popes' – in watercolour! There are dozens of fantastic sketch subjects in Avignon – including the infamous bridge – Le Pont Saint Benezet. The city is largely pedestrianised and filled with incredible architecture, quant cafés, many churches, chapels and gardens and of course 'the Pope's Palace'.
Avignon's colourful history makes it a perfect location to have fun with pigments and patterns! In the Middle Ages the River Sorgue was diverted to form several canals. One of them, the Canal de Vaucluse, still runs through the city before joining the Rhône river. From the 15th – 18th centuries, textile makers in Avignon took advantage of this water supply to create colourful, typically Provençal cotton textiles (even when they had been banned elsewhere in France). At the height of the weaving boom, the mills were powered by 23 water wheels along the canal, whose water was also used to rinse the fabrics. Most of the wheels were destroyed during the French Revolution but four still remain. It is in this charming and beautiful area of the city we find the rue des Teinturiers – known to local as rue des Roues – 'Wheel Street'! This will be just one of our sketching points in a fabulous weekend – do book soon as places will be limited.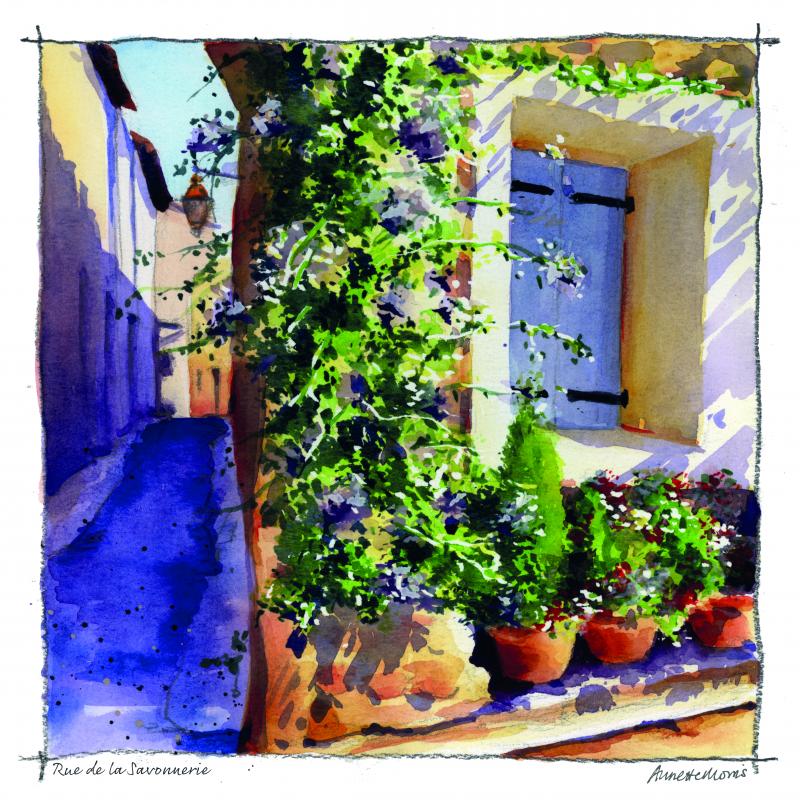 Annette Morris